At the start of the current Test series against India, Australian captain Steve Waugh had announced that he would retire from the game after the last match in Sydney in January 2004. "I want to go out on a high," he had said.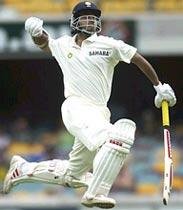 At the time Waugh probably did not realise the psychological effect those words would have on the Indian team and his rival skipper, Sourav Ganguly. His comments could have been viewed as a sign of arrogance; a sign of India's weakness. Had they been made a couple of seasons back, they may even have held true.
But this Indian team is no longer a bunch of meek individuals; it is one that believes in presenting a united front to every challenge. Individual milestones do matter; they always will. But never do they come in the way of team goals.
For a while now it has been seen that Ganguly plays his best cricket when the opposition confronts him in word and deed. Such a confrontation seems to help him concentrate on the game. Other distractions then fade away.
The skipper, already the most successful Indian captain overseas, must have known that a victory in Australia will forever rid his side of the 'chokers' tag. The Indians have won Tests abroad in recent times, but a series victory has eluded them. A win against the Aussies will banish those demons forever.
| | |
| --- | --- |
| | Also Read |
| | |
Ganguly has the knack of rallying his team around him, though his tactical skills may leave a lot to be desired. When the Australian batsmen went berserk in the first innings, scoring runs at will, all the skipper did was look on in despair. Things tended to drift. There were no inspired field changes, no bowling changes. He just waited for things to sort themselves out.
In the second innings, however, he did not set a foot wrong. The gaps were plugged, bowlers were given protection in the deep, the bowling changes -- Sachin Tendulkar's two-wicket spell springs to mind -- were timed just right.
In his years as captain, Ganguly has grown in stature, learning every inch of the way. That is perhaps the biggest compliment one can give him. He is always ready to lend you an ear, but the final decision is his.
"Give me enough medals, and I'll win any war," French dictator Napoleon Bonaparte had once said. In Ganguly's case, his men eye the biggest prize in cricket: a Test series victory in Australia. Nothing can inspire a team more than defeating Australia in Australia and bringing to an end an era of one side's hegemony over world cricket.
There was never any doubt that Rahul Dravid, Sachin Tendulkar and V V S Laxman would do their best to stop the Australian juggernaut in its tracks. But before this series we often asked ourselves how our bowlers will ever take 20 wickets in a match against Australia. Now we ask ourselves: who's taking the next five-wicket haul?
Ganguly has out-thought the most successful skipper in the history of the game, so much so that Waugh, who has lost only two matches at home as captain, said he hopes not to lose any of the remaining Tests.
Notice the change in attitude. No longer is there any talk of 'chin music' or 'mental disintegration'. The Aussies have suddenly stopped talking. They realize it's going to be tough.
Though the arrogance is gone, the grit will be back. Waugh can still go out on a 'high'. But not if Ganguly has his way!