Kevin Pietersen replaced Alastair Cook as Australia's tormentor with a majestic double century as England took a commanding first innings lead before rain curtailed the third day of the second Ashes Test on Sunday.
The 30-year-old Pietersen still looked hungry for more on 213 not out alongside Ian Bell (41) as England moved to 551-4 and a lead of 306 when the rain came down at the tea break and prevented any further play.
England declared on 551 in the corresponding Test four years ago and incredibly lost by six wickets but Australia, who made 245 in their first innings, can only hope the rain continues as they battle for a draw at best over the next two days.
Pietersen reached the second double century of his career with a sprinted single off spinner Xavier Doherty before dropping to one knee and pumping his fist as England's "Barmy Army" of supporters gave him a huge ovation.
"It's wonderful to get runs and put our team in a position to win a test match in Australia," Pietersen told reporters.
"I really do believe we're in a very strong position in this game. Obviously the rain didn't help us out this afternoon but to get a team into a position is great," he added.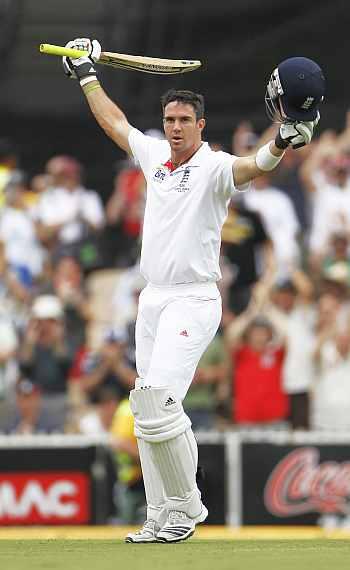 For Australia, the weather might have been milder than the 37 degrees Celsius they fielded in on Saturday but it was another day of toil with scant reward for their bowlers.
Local quick Ryan Harris and wicketkeeper Brad Haddin did finally manage to finally remove Cook off an inside edge for 148 in the morning to end to 17-and-a-half hours of unbeaten batting since the Englishman was dismissed in the first innings at the Gabba.
Australia skipper Ricky Ponting admitted, however, that his team had been outplayed over the last five days going back to the drawn first test in Brisbane and needed to "bounce back".
"We'll see what we're made of, simple as that," he said.
"They've shown us how to bat on this wicket so far. I think their skills and their application in their batting in the last couple of games has been terrific and we have to emulate that in the last couple of days of this game," he added.
PEPPERING BOUNDARIES
While Cook would not pretend to be a great technical batsman, even the locals who booed Pietersen onto the pitch on Saturday could not deny the quality of his innings.
Pietersen secured his first Test century in 18 matches going back to March last year in the morning, celebrating the single off Harris with a roar that rang around the ground.
"I do love the big stage," Pietersen said.
"It's been quite tough over the last 18 months. I've got high standards and to get 80s, 90s, 99s, 60s, 50s, does my head in. Yes, so it was great for that one to go down fine leg," he added.
Pietersen relaxed a little after reaching his 100 and was soon peppering boundaries around the Adelaide Oval, where he scored 158 in the corresponding Test four years ago. His double century came off 283 balls and included 29 fours and one six.
He had a minor scare when he was on 91 and Australia requested a review of a refused leg-before-wicket appeal but the television pictures showed Harris's delivery had hit his pad outside the line of the wickets.
Shane Watson trapped Paul Collingwood leg-before-wicket for 42 three overs after lunch but apart from Harris (2-84), the specialist bowlers struggled on the lifeless wicket.
Quicks Doug Bollinger (1-121) and Peter Siddle (0-100) were expensive while left-arm spinner Doherty (0-120) never looked like giving Pietersen the sort of problems he was brought into the side to provide.
"They're toiling away, they're doing their best, there's not much in the track," Ponting said.
"We've just got to keep hanging in there and see if we can make some breakthroughs, but I think to tell the truth now most of the work for the rest of the game's going to be done with our batting," he added.