Andrew Flintoff has rejected a central contract from the England and Wales Cricket Board (ECB) in order to have more control over his career, the all-rounder said on Tuesday.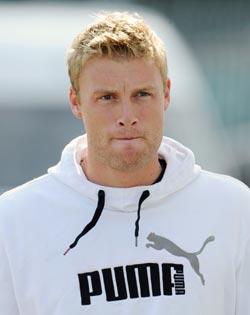 Flintoff, who was offered a second-tier contract, is in Dubai recovering from a second knee operation that hastened his retirement from test cricket after helping England regain the Ashes from Australia last month.
The 31-year-old intends to carry on playing one-day internationals and Twenty20s for England and is hoping to be fit to return for the tour of Bangladesh early next year.
"I was flattered to receive the offer of an incremental contract from the ECB, which I wasn't really expecting, but at this stage of my career I don't think I need to be told when to play and when to rest," he said on his website (www.andrewflintoff.com).
"I have played international cricket for 11 years and know my body's capabilities. I am grateful to the ECB for all the financial support they have given me to help in my rehabilitation.
"I have moved to Dubai because I believe it will help in that and their decision to pay for (physio) Dave Roberts' continued expertise to aid my recovery has been invaluable," added Flintoff.
Without direction from England's team management he will be able to sign lucrative Twenty20 contracts for overseas teams like his Indian Premier League franchise, the Chennai Super Kings.