Elite Panel umpire Aleem Dar has been honoured by the ICC for becoming only the seventh man to officiate in 150 ODIs, a feat he achieved when he took the field for the 1st One-Dayer between England and Australia.
To mark the achievement, Javagal Srinath of the Elite Panel of ICC match referees, presented a memento to Dar at the post-match presentation ceremony at the Lord's on Friday.
The 44-year-old, who won the David Shepherd Trophy for the third successive year by winning the ICC Umpire of the Year award at the LG ICC Awards in London in 2011, made his umpiring debut in February 2000 when he officiated in an ODI between Pakistan and Sri Lanka in Gujranwala.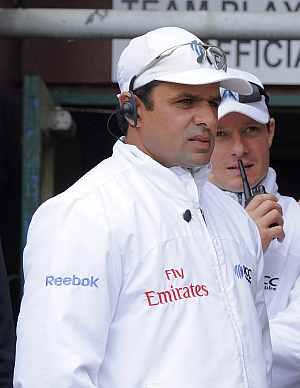 After being promoted to the elite panel in 2002, he officiated in his first Test between Bangladesh and England in Dhaka in October 2003.
Dar has supervised the finals of the ICC Cricket World Cup 2007 and 2011, and also umpired in the 2003 World Cup. Dar has also stood in 74 Tests, which makes him the sixth most experienced official on the circuit.
Reflecting on his achievement, Dar said: "I am honoured and humbled to join the exclusive 150-ODI club which includes some of the most respected gentlemen in this noble profession. To get to the landmark at the home of cricket in a match featuring the oldest opponents in the sport makes this occasion more memorable.
"I consider myself extremely lucky and fortunate to have been granted so many opportunities as well as having been given excellent support from the PCB, the ICC, and by my fellow match officials without whose continued guidance I would not have come this far. A special thanks to my family who have been extremely supportive over the years."