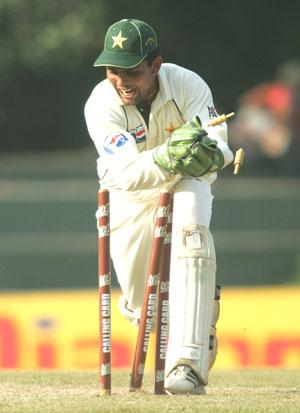 Wicketkeeper Kamran Akmal has threatened to sue former Pakistan coaches Intikhab Alam and Aaqib Javed for defamation unless they apologise for suggesting his performance in Australia may have been linked to bookmakers.
Akmal said on Saturday Alam and Javed should substantiate their allegations or make a public apology to him.
"I am fed up with these allegations. My family is disturbed. I go out and people hoot me and I am mentally disturbed. I want to clear this unwarranted stigma with my name," he said.
"I want an apology from these people. I will be speaking to the chairman of the board about this as they are employees of the board. If they don't apologise I intend to go to court in my personal capacity," he added.
The International Cricket Council's (ICC) anti-corruption unit said on Thursday it was examining Pakistan's dismal tour of Australia this year when they were whitewashed in the test and one-day series.
However, PCB chairman Ejaz Butt told reporters the board had informed the ICC they had found no evidence of match-fixing by any player on the Australian tour.
Pakistan slumped to defeat in the second Test in Sydney after they appeared to have victory in their grasp with Akmal dropping three catches and missing a run out.
His performance came under scrutiny during a Pakistan Cricket Board (PCB) probe into the team's poor tour with the two former coaches suspecting Akmal may have links with bookmakers.
The pair's statements caused uproar in Pakistan when video recordings of the inquiry committee proceedings were leaked to a television channel this week.
"The point is (if) these people suspected me of deliberately under-performing why did they keep on selecting me for other matches?" Akmal said.
Akmal said it was about time someone took action against people making baseless allegations of match-fixing or the ordeal for Pakistani players would never end.
Alam and Javed were removed as team coaches after the Australian tour but given top positions in the national cricket academy by the board.