It was not a very happy homecoming for Shahid Afridi after Pakistan's Asia Cup triumph as he got into a scuffle with a fan at the airport, claiming that he reacted angrily only when his three-year-old daughter was pushed to the ground by eager admirers.
"I know what I did was wrong. I should have controlled myself. But I couldn't take it when my daughter was pushed to the ground," Afridi told Dawn News.
Afridi, who was adjudged Man of the Match in the Asia Cup final against Bangladesh that Pakistan won by just two runs, insisted that he had lot of love and respect for his fans and always tried to be pleasant with them.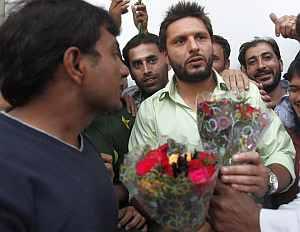 "But when my daughter who was waiting for me near my car got pushed by fans trying to get near me I lost my temper," he said.
Afridi's brother Mushtaq insisted that the man involved in the incident was not a fan.
"I wouldn't describe him as a fan Shahid can never think of hurting a fan," he said.
The popular all rounder was caught on camera attacking a fan by pushing and slapping him at the Karachi airport soon after his arrival from Dhaka after winning the Asia Cup title.
Minutes after he had spoken to the media waiting for him at the airport, where a large number of fans had gathered to welcome their heroes, Geo News and other channels flashed footage of a visibly angry Afridi attacking a fan dressed in a blue T-shirt and pushing him to the ground.