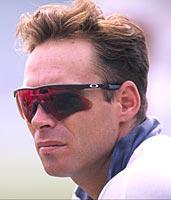 Daniel Kyle Morrison carried the New Zealand pace attack after the retirement of the legendary Richard Hadlee in the late 1980s. A deceptively quick bowler, Morrison's ability to bowl some wicked late outswinging deliveries made him unplayable at times.
The former Kiwi bowler was plagued by injuries in the latter part of his career, but still managed to claim 160 Test wickets. He spoke to Ashish Magotra about fast bowling and the current series between New Zealand and India.
New Zealand has become synonymous with bowling injuries. What is the reason?
That is a difficult one to answer. It is a million dollar question. Why do we break down a lot? Ever since Richard Hadlee retired, we have had a lot of injuries. Basically I put it down to the amount of cricket that is being played these days.
Since 1997-98, we have played a lot of cricket, travelling, playing, [causing] stress on the body. I look back to Dion Nash and Chris Cairns before there was all the play; Simon Doull was an injury-prone guy, I had a lot of problems with my groin. Geoff Allot retired, Dion Nash... it is hard to pinpoint. There is so much data available, but if there was a way to know, New Zealand would probably pay money to know.
The other part of it is that we play on softer surfaces as you might have seen in India's tour of New Zealand. The softer surfaces combined with the harder pitch, but it is difficult. Fast bowling places a lot of stress on the human body and the sheer nature of fast bowling is not good for the human frame.
People all over the world are talking about the declining standards of fast bowling. Would you agree with that?
I think you go through generations when there are a lot of good fast bowlers around. For example, in the 1980s every country had its own set of fast bowlers coming through; the great West Indian side, the Aussies kept producing one or two, [Dennis] Lillee was finishing up... and Thommo [Jeff Thomson] was finishing up. The quick-bowling all-rounders: Kapil Dev, Richard Hadlee, Imran Khan, Ian Botham.
I don't think there is a dearth of fast bowlers [now], but the West Indies has gone through a bad period. I am hearing stuff about a lot of the bowlers going to America on scholarships and preferring basketball to cricket. Earlier, cricket was the only way to get out of the ghetto, as you may call it, in the West Indies, but now there are so many options.
But yes, you are right, the world has struggled a little bit. Glenn McGrath is on his way out, [Jason] Gillespie won't be around much longer, Brett Lee has burst on to the scene, New Zealand has Shane Bond, England has the kid [Stephen] Harmison. India has Ashish Nehra and Zaheer Khan.
On the whole, injuries have played a big part. Funny times, not a lot of genuine good fast bowlers around.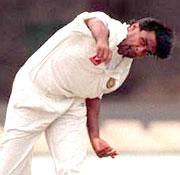 How would you rate an Indian pace attack that consists of Javagal Srinath, Zaheer Khan and Ashish Nehra?
To be fair, I think Javagal Srinath has struggled in the last 2-3 years. He does not get the ball to go through. The two left-armers, Zaheer and Ashish, are useful and complement each other well. Zaheer missed Ashish Nehra in Ahmedabad. Those two and if you can find another one -- Srinath obviously can't go on playing forever -- whether it is someone like Balaji or maybe even Tinu Yohannan.
Tinu has been in and out of the team. Anything in particular that you liked about his bowling?
He can get the ball to go through at times, he is sharpish. Though he can get a little bit quicker. I first saw him when I had a stint with Dennis Lillee in the MRF Pace Academy in 1999 and he seemed to be quite good. He came to New Zealand, played one of the Tests there, but I think he needs to be given a go, to be fair. I think he needs to get into the groove.
What is the main difference between bowling in New Zealand and India?
You have to bowl that much fuller. Swing the ball and try and do something while the ball is new. The pitches are generally slow. There is virtually no margin for error. I have also noticed that not a lot of bowlers here are capable of getting the ball to reverse-swing. Ajit Agarkar can, but he tends to play more one-dayers now. It's a shame because I think India would have quite a neat attack with Agarkar and the two left-armers.
Who would you say is the best fast bowler in the world right now?
It is pretty hard to go past Glenn McGrath. He is consistently there and about. Not as fast as Brett Lee. But he is always taking wickets and at the end of the day that is what matters.
What is your take for the Test series and the one-day tri-series that follows?
India and New Zealand are evenly matched. But I think in conditions where the spinners hold sway it is hard to go past India. We prefer to bat in our conditions and that is the way everyone prefers to play.
The Aussies are gonna be hard to beat. You have India, they reached the finals of the World Cup, and then you have New Zealand. The Kiwis have a very good record against the Aussies in recent times. India playing at home makes it a very exciting series to look forward to. It's hard to look beyond an India-Australia final. New Zealand, who have a lot of injury issues, I am afraid, are the underdogs. The Kiwis are struggling with the injuries at the moment.