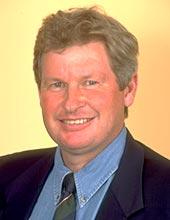 Former New Zealand wicket-keeper Ian David Stockley Smith averaged 43.90 with the bat against India in Tests and was also adroit behind the stumps. A tough cricketer, Smith never asked nor gave any quarter to his opponents in a long career that stretched through the 1980s and ended with the 1992 World Cup in Australia and New Zealand.
The affable Kiwi spoke to Ashish Magotra about the changing face of wicket-keeping and other matters relating to Indian cricket. Excerpts:
Can the changing role of wicket-keepers in world cricket be attributed solely to [Australian wicket-keeper] Adam Gilchrist, or is it a gradual development that has taken place over the years?
Adam Gilchrist is a freakish player. To average 60 with the bat as a batsman is unbelievable; to do it as a wicket-keeper is simply freakish. No one has achieved anything like that before and it will take a very special player to achieve something along the same lines again.
It is hard to say that everyone is trying to find an Adam Gilchrist, because it will simply not happen. But what they are looking for is a wicket-keeper who can average around 35 with the bat. In my time and [former India stumper and current chairman of selectors] Syed Kirmani's time it was more like 25, as long as you were really good behind the wickets.
These days a wicket-keeper can simply not bat lower than eight in the batting lineup. [Number] 9, 10, 11 is simply not acceptable. A wicket-keeper is expected to bat for long periods; the emphasis has shifted to batting.
The standards of wicket-keeping have fallen from time to time, but that comes with the territory.
Rahul Dravid was India's wicket-keeper during the World Cup. His performance behind the wickets was not close to that of a specialist 'keeper, but it certainly added to the balance of the team...
Rahul is not alone. In New Zealand, we tried Lou Vincent behind the stumps, without a lot of success. ODI cricket is very strenuous. Three-and-a-half hours of non-stop cricket certainly takes its toll on your body. A lot of people will say that three-and-a-half hours is not a lot of time. But because of the great pace of one-day cricket, the stress factor comes into the picture. I was not surprised to see his [Dravid's] batting suffer as a result and I was also not surprised to see him struggle with the gloves as he is not a specialist wicket-keeper. He did it for the team, but he will surely be happy to return to batting duties alone.
For a wicket-keeper, is there any country that is the hardest to tour?
Each country has its own factors and variables. In England, for example, the ball swings a lot. It tends to swing after the ball has passed that batsman. So you have to make certain adjustments there. In India, Pakistan and Sri Lanka, wicket-keeping is very physically demanding. You are standing closer to the stumps as the spinners are in action for long periods of time. There is more hustle, more bustle, and as a result it is more stressful. Keeping in the subcontinent is a very tiring affair.
In New Zealand, the ball seams around, but the pitches are slow. So, as a result, you stand away from the wicket to try and counter the low bounce. As batsmen make changes to their batting techniques for every tour, so too with wicket-keeping; you have to make adjustments.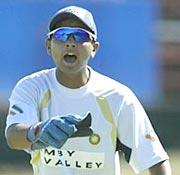 How do you rate Parthiv Patel as a wicket-keeper?
P
atel is an amazing talent for his age. I know wicket-keepers who have not come into their own and felt one with the team till their late twenties or early thirties. It is a maturing type of position. But to come in at such a young age and look so comfortable is truly amazing. I think he will develop into one of India's greatest wicket-keepers in time. Undoubtedly, I feel he has great ability with the bat as well. I have seen him open the batting and he will bat in the top six at one point in his career. That will add a lot of balance to the team.
But Parthiv's place, at least in One-Day Internationals, has come under a lot of pressure from wicket-keepers who are better batsmen [Ajay Ratra and Thilak Naidu]...
I still believe that in ODIs you need to take all your chances. If you hold all the catches and wickets fall regularly, you will keep the scoring rate down. As a result you have to score fewer runs to win.
As for Parthiv's ability with the bat, I have seen him play shots, score quickly, and the aggressive intent is also there. It is just a matter of him having enough confidence. With Syed Kirmani and [former India stumper] Kiran More in the selection panel, I think whenever they come up with the side, the best 'keeper will be there.
Virtually every time a top side visits India, one of their top fast bowlers tends to get injured. Glenn McGrath, Brett Lee, Shane Bond... Do you see a pattern?
Every fast bowler knows that the conditions here [in India] are never going to be easy. It is hotter, the pitches are flatter, and these are not conditions that a fast bowler will relish. [But] I do not think there is any genuine reason other than injury. Great fast bowlers want to test themselves against the best. They want to prove themselves in all types of conditions.
Bond is straight out due to injury. A quick bowler, he enjoys bowling. He missed a lucrative contract in England because of it and I don't think he has played enough cricket to be able to pick and choose his tours. Knowing him, if he was fit, he would certainly have been here.
Having seen McGrath and Lee all over the world, I certainly don't think they would like to stay at home.
On a similar plane, Kiwi cricketers of late have been suffering a spate of injuries. Simon Doull, Dion Nash, Geoff Allot and Chris Cairns have all suffered. What is going wrong?
It is a question we have been asking ourselves in New Zealand. Geoff Allot, who bowled very well in the 1999 World Cup in England, hardly ever bowled a ball after that. There has been a common theme to all the injuries; they all occur in the back area -- stress fractures in the lower back region. We are monitoring and keeping tabs on that.
But I think it goes back to the great Dennis Lillee, who virtually rebuilt himself after suffering a career-threatening injury. It has been happening all over the world. In the recent series against South Africa, England had trouble finding enough fast bowlers to fit the slot. Maybe it is the soil; maybe it is the huge amount of cricket being played; we need to find out quickly. New Zealand just does not have such a huge pool of players to be able to lose a bowler each year.
What is the most important aspect of wicket-keeping?
Fitness has become hugely important and with it comes the ability to stay there for long hours. Technique is obviously very important. A lot of people think 'keeping is all about the hands, but I think the feet play as important a role. Your feet get you in the position to be doing the job you should be doing.
I was impressed by Patel's footwork in this Test. Robbie Hart, the New Zealand 'keeper, though, has had some problem and I spoke to him about that. I told him, 'The problem is with your feet. There is just not enough bounce. You are standing too much on the heel when you should be on the toes.' Concentration at the end of the day comes down to fitness.
Would you say Adam Gilchrist is the best wicket-keeper in the world?
I think so. You name a world eleven for Tests or ODIs, Gilchrist would be the wicket-keeper. Ninety per cent of the people who follow cricket would agree with that.
Can India challenge the Aussies in Australia?
They certainly can challenge the Aussies in the batting department. If the batting clicks in the conditions, then the Aussies will be forced to make huge totals. The back-up bowling will be a slight worry. I know Zaheer Khan will do well there. But India need the extra pace of Ashish Nehra -- he should be fit -- and the experience of Javagal Srinath to be successful there. Srinath will be especially useful towards the latter part of the tour.
Finger-spinners like Harbhajan will have to bowl a lot of overs for wickets. He [Harbhajan] will not get the same purchase from the wickets there.
I believe India will do well. They might not be able to win consistently, but they will push Australia very hard during the Test matches. India, I am sure, will win their fair share of ODIs on the tour.
How do you see this India vs New Zealand series going?
Having drawn the Test, New Zealand will go to Mohali [venue of the second Test] in a very confident mood. New Zealand is a team that grows throughout a series. They don't go downhill; a bit like India. If they do pretty well in Mohali then the one-day series will be the best you will have seen in a long time. All the three teams can beat each other and there is virtually nothing to choose between them. In these conditions, you will have some of the most thrilling one-day cricket seen here [in India].
New Zealand coach Ashley Ross had said at the end of the tour games that the results in the side games don't matter. Would you agree?
I would be surprised if he said that. Everything matters hugely to us. But Ross is just a caretaker coach and we have a new coach, John Bracewell, joining us soon. And I know Bracewell's attitude to life is that winning is all that matters and if you lose you better have a good reason for that. He does not like coming second.
Is that the way to play? Isn't cricket a gentleman's game?
Cricket is a gentleman's game, but gentlemen are always happier when they win.