When opportunity comes along, it is said, seize it with both hands. That is precisely what Tim Paine has done in his short stint for Australia.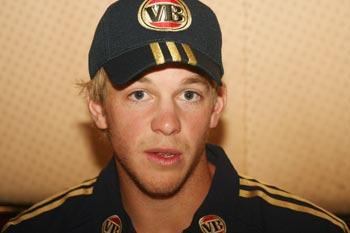 Handed the gloves for the England ODI series, after Brad Haddin pulled out injured, Paine has caught everyone's attention with superb glovework and batting as an opener. But he is still aware that once Haddin is fit, he will have to make way for him. Till then, he is hoping to make the most of the opportunities that come his way and make life difficult for Australia's selectors.
The 24-year-old is indeed a revelation with the bat, having scored a century and two half-centuries in the 13 ODIs he's played. Such is his impact that if he continues doing well with the bat, there is the possibility of him continuing in the team as a specialist batsman.
The baby-faced wicketkeeper spoke with Chief Correspondent Harish Kotian about his success story thus far.
First there was Adam Gilchrist and then came along Brad Haddin. Till that injury to Haddin did you ever believe that you would make it to the Australian team?
I was hopeful that I would get a chance at some stage. Obviously, Brad's injury has given me a short time to be the Australian wicketkeeper, and I am enjoying it at the moment.
Aren't those very big shoes to fill? A slot once occupied by greats of Australian cricket, Ian Healy and Adam Gilchrist?
Definitely, those are very big shoes to fill. But, at the same time, it is a great opportunity for me to show that I am up to playing international cricket. Brad will be back next month or so and till then I am hoping to do as well as I can. Then, hopefully, after that, whenever the opportunities present itself again in a few years time to come back into the side I would have done well if I do well during this time.
Talking about the ODI series against India, you had a look at the Indian bowlers when you played against them in the rained out match in the Champions Trophy. How useful will that prove for you as an opening batsman?
That's definitely a positive -- just the fact that I got to face some of their bowlers for a couple of hours in South Africa. So I know a little bit about them now, and I can draw upon that experience and play them quite well here in India. I know that wicket in South Africa was quite similar to an Indian wicket and it was spinning quite a bit and wasn't that fast. So I can definitely take some confidence from that innings and bring it into this series.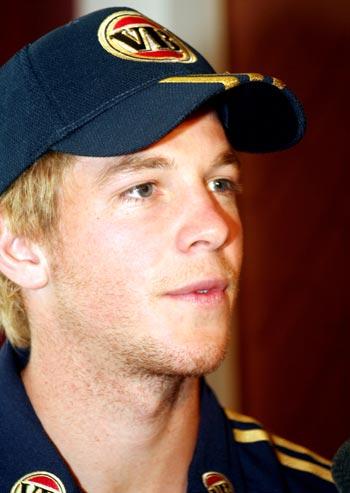 How delighted are you on having made such a big impact since breaking into the Australian team with a century and two fifties in addition to your superb glovework?
I think I have started well enough. Obviously, this series against India will be important as well, so I am looking to continue on with the way I have started -- that is to keep well and score runs.
Also, if Shaun Marsh is selected, it means you will have bat lower down the order. Are you comfortable with that role, which would, at times, mean going after the bowling right from the start?
Definitely, I have been preparing for it and I think I might be batting at some stage lower down the order. It will be a huge challenge for me to bat down the order on slow, turning wickets against the quality spinners that the Indian team has got. It would be another challenge that I have to be ready for.
You and Shane Watson have done well as openers but your approach has been quite different from your predecessors, Matthew Hayden and Adam Gilchrist. You both seem to be content to play out a few overs before taking on the bowlers. What is the rationale behind that?
Shane Watson, in his last three innings, scored quick hundreds and I still think he is a positive player and looks to take on the bowlers. Well, I don't think that's quite my role. I can't go out and hit the balls over the top and try to slog the ball around the park. My job, normally when I play for Tasmania, is to be busy and not only look to score runs as quickly as I can, but also to try and occupy the crease for long periods. I think that role hasn't changed when I am playing for Australia.
We both just look to go out and play the way we normally play. You can't help it that the blokes that opened the batting before you were some of the best players that played the game; so that's the way it is.
We know we have big shoes to fill, but, at the same time, I don't think people expect us to play the same like Gilchrist or Hayden did, because they were very special players. I just look to play how I play, and if that is good enough, that is good enough.
As far as I am concerned, I am just looking to be a bit busy and score runs. It doesn't necessarily mean to hit the ball hard or further. I am just looking to be a bit more positive, bit sharper and hitting the ball in the gaps and running hard.
The other thing is that the outfields here are pretty fast, so I know that if I get the ball in the gap it might run away for a four.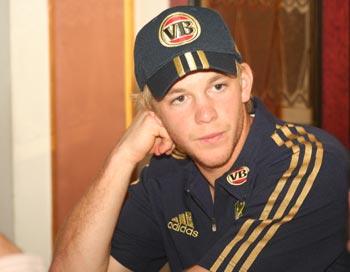 How important is it for you to continue doing well with the bat, because Haddin is the first choice keeper and when he is back your only chance of survival in the team would be as a specialist batsman?
Maybe or maybe not, but I am not thinking of it all. All I am thinking now is this series and doing well with the bat and also as a wicketkeeper. If I happen to bat well, score a lot of runs and if the opportunity comes along and I bat down the order as a batsman that is what happens. If not, I won't be too worried about it.
Have you toured India before? How much would the training help to get acclimatized and prepare for the ODI series?
I have undertaken a few tours to India with the cricket academy, so I have a fair idea. The training is going on quite well here. We are working on a few different things, like the bounce, turn and stuff like that. When we get into a game we want to be sure about how the wickets would play.
Even the wickets in Sydney and Adelaide spin a bit, plus I have been here before; so I have some idea of the conditions. But, definitely, it is going to be a tough job because I don't do a lot of it, but I am definitely good enough to cope with it.
When did you start believing that you could play for Australia as a wicketkeeper-batsman? You struggled as wicketkeeper when you started playing for Tasmania.
I have been a keeper all the way through. It was just that in Tasmania we had a keeper who was doing well, so I got the chance to play as an opening batsman and probably did that for the first year or so bit. It took me another after year after that to really start improving my keeping. Once that started to happen I genuinely started to believe that I could play for Australia at some stage.
Photographs: Sanjay Sawant