H is one of cricket's greatest batsman, with a devoted following of millions. Indian legend
Sachin Tendulkar
sits down with CNN's
Anjali Rao
in Mumbai and shares with her the thrill of playing cricket, his thoughts on the Indian Premier League and the importance of his family in keeping him grounded.
Sachin, you are just back from injury, these days you are on a contract with the IPL, that's an institution which has gotten a huge amount of press recently because of the way it has sort of reinvented cricket. How is it being for you being such an integral part of something that everyone is talking about?
First of all, I would like to say that I'm extremely happy that I'm part of the inaugural year of the IPL tournament because I have no doubt that it's going to be a huge success. People have already started talking about IPL all over the world. And I'm not only talking about the cricket enthusiasts, I'm talking about the people who didn't actually know anything about cricket have started actually talking about IPL so that is a clear indication that, you know, the tournament is going to go a long way.
And I think it's a lot to do with the families, you know the outings in the evening. They used to go to the cinemas and watch a movie or a play or something like that, but now the evenings could be watched in the form of a cricket match where the whole family goes out together and then they witness a cricket match which is full of action. There is no dull moment there. Sometimes the complaint that we are used to hear that in Test cricket sometimes it is too slow, it gets boring, and one-day cricket also, there are phases in the game where there is not much action happening but no such thing like that in IPL, so it's full of excitement.
It definitely is a lot more showy than regular cricket. Did you have any reservations about signing up to something that has been criticised by a lot of people for dumbing down the game?
I don't personally feel that, you know, dumbing down the game. It is just another version of cricket. The Test cricket is there and then they started one-day cricket many years ago and one-day cricket has been a tremendous success and I don't see any reason… if the game is gonna get globalised in the form of IPL or Twenty20 introduced, then why not? It's better for cricket.
Let's go back to the start of 2008. Right, so you were in Sydney, it's a stunning day. India, sadly, lost the first Test to Australia in Melbourne. You're walking out into the centre of the ground as you've done to bat for India so many times. What's going through your head as you've got this massive amount of pressure on you to perform?
I have always enjoyed playing in Sydney. It has been a special place for me. I have somehow walked in and I always feel: 'I am going to score runs here. I'm going to score big runs here.'
And the ground has been kind to me. I have scored some runs and then I carried that same confidence. I remember I walked out to bat just after tea time on the second day. And I said the evening period was very important for us.
I basically decided I'm going to play my shots but I'm going to be selective. I'm going to spend some time in the middle first and then if I get a ball to put away, I'm going to put it away in the evening, even though just few hours were left, I said I'm going to do that and continue the next day. And it worked, I mean whatever I had planned, I was able to execute that, so you know, in the end I ended up scoring 154 or 155, which was rather satisfying.
What about the Aussies, did you hear what they were saying at the time as you walk out? Do you converse with each other on that day?
Well, not only with Australians. I mean it happens all over the world. A couple of words are exchanged here and there. It's all fine, it's all part and parcel of the game. Sometimes it's in good humour as well, so you just laugh it off and you refocus on the game. There were a lot of things said.
The series was very very competitive and we had many challenges along the way, and all those challenges were responded quite nicely by us, and at the end of the tour, I feel we lived up to the expectations of our well-wishers and brought smiles on their faces.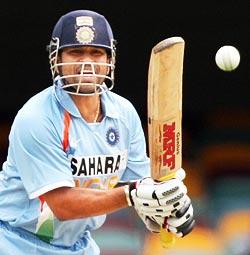 Your performance was undoubtedly stellar on that day. But I guess a lot of people are going to remember that day for being, you know, what happened with Harbhajan Singh, his alleged calling of Andrew Symonds as a monkey. We've seen so much scandal in cricket recently, if Harbhajan Singh, also in 'slapgate', Shoaib Akhtar with his beating of a teammate with a bat, and then Shane Warne and his text messaging issues. What's happened to the game? Is it not for gentlemen anymore?
Well, you know, all those things, I know they were very unfortunate. But there were certain things which were blown out of proportion, and there were certain things which didn't happen. It's not that it's only happening in today's cricket. I mean it happened earlier also, there were plenty of controversies earlier as well. But now that there's a lot of media attention on the players, and everything is put under a microscope so sometimes it's blown out of proportion, sometimes the player is at fault. So it's just that there is a lot of hype and the competition between media has also increased, so they have to live up to the expectations of their bosses. So it's a combination of all that.
You yourself were also embroiled in a scandal where referee Mike Denness accused you of ball-tampering. How do you personally deal with it?
I think just leave that.
You won't answer that?
No. I don't think so. I don't need to get into all those controversial things.
Even though the viewers are going to want to know your thoughts on it and how you dealt with it?
No. I don't. Not at this time. I would answer at some stage, but not at this time.
Okay. Alright, well hopefully when you do decide to answer it, you'll pick us.
Think I'll speak to you again.
When you were a kid, is this what you dreamt for yourself?
I remember when I first held a cricket bat when I was probably 4 or 5, and you know, the love for cricket only grew bigger and bigger after that and it hasn't stopped. Every outing is a special one. And growing up as a kid, I mean I always dreamt of playing for India.
Okay so outside of actual cricket, you're the most sponsored player in the world and you endorse everything from shoes to toothpaste to credit cards. You know, in this country, that's sort of part and parcel of being a name. You've also got restaurants as you say, and you're a comic book hero these days as well. How much does all that other peripheral stuff feature in your life?
It started in, obviously, the day I started playing for India, you know the offers started coming to me and I… the first 4 or 5 years, my brother looked after everything and then I signed up with WorldTel, so that I could focus only on cricket and nothing else. And there was a clear-cut understanding between us that nothing comes in between cricket. So whenever I was touring or practicing, there were no commercial shots, or no commercial obligations were taking place at that time. And that really worked very well for me.
So I would say the other side was also equally important which also gave me a lot of exposure, you know, taught me a lot of things in life other than cricket. But the fact was, it was all happening because of cricket. And my focus always stayed on cricket. The rest of the things happened around cricket. And even today, cricket is the focal point, cricket is the ultimate thing for me. The rest of the things happen around cricket. It's that simple.
Let's just talk about, you know, your history in this game. Every little boy in this country wants to be a Sachin Tendulkar. When you were a kid, is this what you dreamt for yourself?
I remember I first held a cricket bat when I was probably 4 or 5, and you know, the love for cricket only grew bigger and bigger after that and it hasn't stopped. Every outing is a special one. And growing up as a kid, I mean I always dreamt of playing for India and I still remember when I started playing club cricket, I was only 11. So I used to keep asking my brother Ranjeet who guided me all the way through, even today, helps out in whatever problems that I have in my batting and outside cricket as well.
So I kept asking him, 'So when am I going to play for India?' And I was pretty sure, very confident, that one day I will. But that wait was…I was getting impatient. I wanted to get in the team as early as possible and start playing for India, because I grew up watching all my heroes and I wanted to be doing all those things which I saw as a kid.
I remember my first experience at the Wankhede Stadium when I was there as a ball boy, just next to the dressing room, I was specifically appointed that position so that I could you know see all the players walking in and out, from a close distance and see how the atmosphere is…at an international game and that was an amazing experience because I got a chance to meet all the Indian cricketers there in the dressing room, especially meeting with Sunil Gavaskar at that stage was memorable.
Do you still get the same rush now when you walk out onto the ground?
Yes. I do. It is a special place. That is what I have dreamt of as a kid and then I am living that dream and that's just fabulous. Every time I walk out, you hear the crowd going crazy, I mean it's just a special feeling. I consider myself so fortunate that I can walk out there in the middle and the whole stadium is backing me.
You made your first-class debut for Mumbai at the age of 14. How normal a childhood did you have? Do you feel like you have missed out on anything or you're just luckier than the rest?
Yes, I mean there were days when I felt like bunking a practice session. I used to be playing with my friends and doing you know, either playing with a tennis ball, or something, or playing lawn tennis, or playing soccer, or playing hockey and those were the times when my brother and my coach didn't let me do all those things, they said, 'No, you are not spending time here. You're getting in the nets, you're batting up and batting at the nets. You're working on your technique.' And that really helped. Eventually, all these things, all those sessions where I wanted to miss, you put them all together, all those hours and they really mattered. You know all those things, if they hadn't happened, I'd probably may not be sitting in front of you.
You have played for India since the 1980s. You must have seen some huge changes in the game over that period of time. What's different now?
Well the first thing I remember in 1989 when I made my debut was, there used to be a rest day in between the Test match. And today, if you see, there are just 10 minutes between Twenty20 matches. So there has been a huge change. The laws changed. The rules for short-pitch bowling changed. The wide balls even in one-day cricket, anything going slightly down the leg is a wide ball. All those things have changed... a bouncer being introduced in a one-day match, again, has changed.
So many things have changed since 1989 and I've been part of it and it's wonderful. And that made the game exciting as well, so you know, all those changes eventually were to also generate that excitement among the people and also amongst the players.
It would seem that you're a bit of a movie buff. But in my research of you, I did hear that you're such a celebrity in this place that the only time you could go to the cinema is under cover of darkness and you've got to be in disguise to do it. Is it a hassle being so famous?
Earlier we tried doing that, it was just for fun. I mean I tried in disguise.
Did it work?
Just for fun, specs, I dropped the specs and one side the glass broke and only one side the glass was there and it was a funny outing. I enjoyed doing that, it was something different.
Did people recognise you?
But I don't always have to do all those things, it's pretty normal out. Sometimes things get exaggerated.
Did anybody recognise you?
They did, they did. Because from my hair, they could recognise. I used to have long hair. Nowadays it's a little on the shorter side. From my hair they could recognise me yeah.
What do your kids think of the fact that their dad is revered and treated as a god in this country?
To be honest, I didn't discuss cricket with my kids, both of them. My son is now 8, but almost till the age of 4 or so, I didn't discuss anything about cricket with them. He didn't know.
Just to tell you a story about my daughter. When I started a restaurant, the teacher in their class, they normally read out newspapers just to let them know what's happening around. So my daughter was probably four at that time, and she didn't know anything about the restaurant and all that. The teacher said, you know Sachin Tendulkar, a cricketer just started a restaurant, so would you like to go to that restaurant, and all that, and all those kind of things.
And my daughter raised her arm up and she said, 'Even my father's name is Sachin Tendulkar.' So that was, I thought that was cute. And she didn't know.
I preferred them to have a normal lifestyle. Any child should be brought up in a manner where he has total freedom, you know, there is no pressure in him. And that is what I believe and I have, we both, me and (wife) Anjali, we've both tried to do that with both our kids.
Okay, if I do a few quick fire questions at you and you quick fire the answers back. Ready?
I'll try my best.
Who's the best bowler you've ever faced?
There have been many bowlers since 1989. The first name that comes to my mind is Malcom Marshall, and Richard Hadlee, Imran Khan, so many top bowlers, right to Brett Lee who's played for a few years and he's one of the best bowlers in the world. It's hard. I mean Shane Warne, Muttiah Muralitharan, Anil Kumble, you name it and it's not enough. So I think all these bowlers who've got more than literally 400, 500 wickets, it would be unfair to just single out one guy because they all are in top category.
Best batsman you've ever bowled to?
Many batsmen, but I think that someone that I would like to watch is Brian Lara. I think he is special.
How do you rate yourself among the greats?
I have done reasonably well. I can say that the dream was to be regarded as one of the top players in the world, and I think I've managed to get there and that's a good feeling.
Match you'd most like to forget?
I think the World Cup finals in 2003 where you look back and you feel that yes, I mean, it was a huge disappointment after such a high. I mean we played so well throughout the tournament and just towards the end, we could not, because probably we were too charged up, we wanted that cup so badly that you know we tried so hard, rather too hard to win, and it didn't work out. So something I would like to forget.
Match you'd like to relive?
The match against Pakistan in the same World Cup because such a hype was created. Almost a year before that match, people had started talking about that match. That you know, India-Pakistan is 'the' match and we all are going to come all the way to South Africa just to watch that game and then we come back. So probably that match.
At the end of the 2007 World Cup, your form was quite heavily criticised and some people said, you know, the end was neigh for you and others were calling on you outright to retire. How did you take it when people said that you were washed up? Did you let it get to you?
Not really. I'm a positive person. I'm not one of those who dwell on the past. I like to move forward and these challenges, these hurdles in between, they bring the best out of me. They motivate me even more. It was a disappointing moment, a huge disappointing moment. But I came back and I started working back on my game. I trained harder and I wanted to perform better.
I am that kind of a person, if I perform well, then I want to perform better. And if I've not done well, then I want to try and work on my game. So eventually, all my practice sessions are to see that how better I can get in all the departments of the game. And as far as fitness is also concerned, how could I make myself better or at least maintain the standard fitness that I have had for so many years.
Things certainly do seem to be looking up for you as far as the IPL goes. What do you think that the world should expect to see from you over the next few years?
Well, I mean I have the 19 years that I've played, I've just gone out and, you know, tried to be in the present, rather than being in the past or being in the future. I've always preferred to be in the present and try to deal with the present situation. And at this moment, I can say that I'm really, really enjoying my game, and it's been a special journey for me, and I'm enjoying it, I'm loving it. I don't want to go too far there and think about what I want to do.
But there is definitely cricket left in me. And I want to just go out and enjoy my game and not think about other things. I have a beautiful family, and you know, they all take the other pressures so that I can only focus on cricket and nothing else. So I am the privileged one and just want to be in that position.
Transcript: Kind courtesy, CNN Talk Asia
Photograph: Getty Images