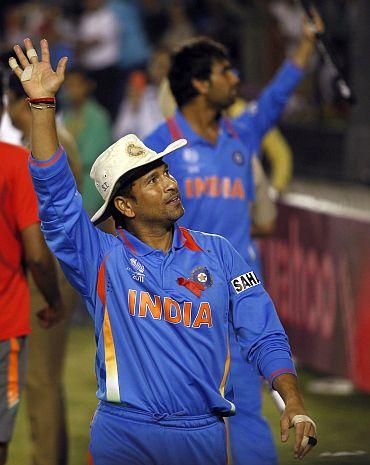 For Jon Shah, who was born and brought up in the United States, Sachin Tendulkar is the one sports athlete that commands awe and respect around the world

I was born in -- and have lived in -- United States my entire life. I do not speak any of the many languages or dialects of India, and if you saw me on the street you would have no inkling that my father was born in Bombay (now Mumbai). If not for short trips to visit my family every few years -- I would know little to nothing about what the average Indian does in his/her free time.

However, over the past several weeks, a universal language that I do understand has emerged, the language of sports.

The World Cup is to cricket what the Super Bowl is to the American National Football League, what March Madness is to the National Collegiate Athletic Association Basketball, and what the World Series is to baseball.

Depending on whom you ask, however, the cricket World Cup may very well have higher television ratings than all of those combined. In a country of over 1.1 billion people, for the past month all eyes have been on one person -- perhaps the greatest cricketer of all time, certainly the greatest Indian cricketer of all time, and possibly playing in his last opportunity to win a World Cup for his country -- Sachin Tendulkar.

In a sports media environment dominated by an NFL lockout, mistresses attached to all sportsmen, and popular sports Web sites carrying 'arrest watch' sections with no hint of irony, Tendulkar remains an athlete's athlete.

Every adjective that has been used to describe him, and any attempt that I make to describe his fame, will sell him short.
To summarise a recent report, he is as famous as Babe Ruth, as skilled as Michael Jordan, as charismatic as Muhammad Ali, yet remains a humble ambassador to the game.

In a recent game, the 'Little Master' (Sachin stands at 5'5") was given not out and began to walk off the field. In the spirit of the game he felt that since he knew he was out, he was.

Earlier this week, India defeated Pakistan to reach the finals of the World Cup. This is a rivalry that cannot be underestimated. There were four conflicts between the nations since 1947, including the longest-running land dispute in the world: Kashmir.

This match-up would be comparable to Yankees vs Red Sox ALCS if the respective cities of New York and Boston were capable of nuclear annihilation of the other. One can only wonder what effect, if any, cricket and its most marketable star may have on diplomacy.

The India-Pakistan match allowed for an opportunity for dialogue between the countries as the prime ministers of both countries sat together for the nearly seven-hour-long match.

With Tendulkar turning 41 for the next World Cup in 2015, this could very well be his last opportunity to win the title for a country that has been hungry for it since earning their last title in 1983.

If it has not been correctly relayed yet, Tendulkar is much larger than his sport and his country. It is easy to imagine children in Pakistan -- just like their Indian counterparts -- playing cricket and arguing over who gets to pretend he is Sachin.

Can Tendulkar have the same diplomatic effect with his athleticism that the so-called ping-pong diplomacy did to further US-China relations in the 1970s? That remains to be seen. For now, we watch the Little Master in awe.