MS Dhoni's [ Images ] apparent ability to thrive on the pressure of captaincy will be tested and be critical to India's [ Images ] chances in this World Cup, says ANIL KUMBLE [ Images ]
This isn't 1992, when the Kenyan-born New Zealand [ Images ]er Dipak Patel so sensationally opened the bowling with his off-breaks, in a bid to temper the Australian openers attacking instincts in the first 15 overs. This time around it would be surprising if any of the stronger teams, even the ones like India, England [ Images ], Sri Lanka [ Images ] or New Zealand, with a mainline spinner in the team, open with spin.
Having said that, the role of the bowlers, and, perhaps vitally, the spinners, will be crucial in a World Cup held on the subcontinent's batsmen-friendly wickets -- if bowlers aren't on top of their form, whatever the batsmen do is unlikely to be enough, simply because too many teams in this World Cup are fairly even in terms of strengths and weaknesses.
That's also the beauty of the 2011 World Cup, unlike in every other Cup, there is no runaway favourite, though India are in the unfortunate position of being the team everyone's favouring. The trick for Dhoni's players will be to deal with that pressure.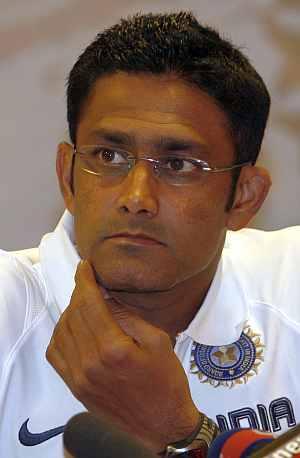 Though they should be used to that by now, given the kind of media scrutiny the Indian team lives under day in and day out.
It's still not easy. For some of the younger players playing their first World Cup, a Cup at home, with dozens of channels focusing on their every move and the public living and breathing cricket day in and day out during that period, the emotional reactions that will accompany their every action on the field might be the toughest part of this event.
This is where it will be good to have the calming presence of Gary Kirsten and Paddy Upton, who have helped forge a very well-balanced unit and senior players like Sachin, Sehwag, Zaheer, Harbhajan and Yuvraj, who have the experience of more than one World Cup behind them.
As for Dhoni, the players seem to look at him as the natural leader and that's very important. It's a role that has been the making of him and by extension, the team. 
I always maintained that he is a quick learner and an instinctive leader, one who eventually goes by gut feel and his own judgement, yet also has the self-confidence to listen to counsel and back his players. His apparent ability to thrive on the pressure of captaincy will be tested and is tical to India's chances.
Still, this will be a wonderful World Cup in the fact that there are any number of teams that have a good chance of winning. While I wouldn't want to pick a clear favourite, I do think India have a very good chance to make this one special, yet England, equally, are a very strong and well-balanced team and will pose a strong challenge. They have a strong batting line-up, are confident, have that attacking, quality off-spinner in Graeme Swann [ Images ] and clear leader in Andrew Strauss [ Images ].
Sri Lanka,again, are a strong unit at home and under these conditions, but South Africa [ Images ], perhaps, are the other strong favourites given their potentially lethal opening bowlers. In their case, a lot will depend on whether their top five batsmen can keep their heads under pressure.
Then, three-time champions Australia [ Images ] will be looking to make this a fourth. The fact that they will go into this with many pundits saying they're out of it already might work in their favour, with the pressure being off them. I don't think Nathan Hauritz's [ Images ] withdrawal will make that big a difference simply because I don't think he was effective here. What could be a crucial blow, though, is the absence of Michael Hussey [ Images ].
Of the others, Pakistan, of course, are the perennial "dangerous team to write off". Still, while it's fairly open and depends on a team's performance on the day, I wouldn't give either team the favourites' tag.
Meanwhile, here at the KSCA, I barely have had time to breathe. As players, we seldom think about the operational details and logistics that go into hosting a big event. I know now that the pressure here is equally intense. But it's an experience and I'm enjoying every moment.
- Hawkeye Communications/Chivach Sports
Previous Column:
- Jacques Kalls: 'I'm more relaxed this World Cup than any other'