Home > India > Cricket > Stars We Spotted


Spotted: Rahul Dravid and Martin Crowe

April 15, 2008



Reader Balachandar Muruganantham sent us this picture from Bangalore.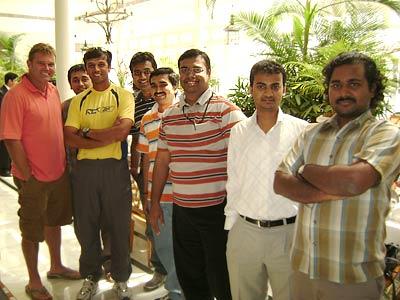 'Me along with a group of friends had gone for lunch  at Windsor Manor in Bangalore, and there we saw Rahul Dravid [Images] and Martin Crowe. We took a photograph with them,' writes Balachandar.
Thank you, Balachandar, for sending this photograph!
If you encounter your favourite cricket/sports personalities, please mail the photograph or video to sportsdesk@rediff.co.in. We will feature the best images or videos right here on Rediff Cricket or Rediff Sports.
Also see: More Reader photographs