Home > Cricket > First Look


India confident on SA arrival

November 15, 2006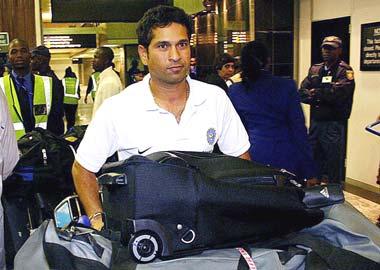 Sachin Tendulkar arrivers at the OR Tambo airport in Johannesburg on Tuesday.
Striking a confident note, Indian captain Rahul Dravid sought to rubbish the notion that his batsmen would be susceptible to hostile South African fast bowling during the 54-day tour.
Dravid said the batsmen had scored big hundreds on previous tours to the country including the 2003 World Cup and he could not see why they could not excel one more time.
"As far as I can remember, we did very well in the 2003 World Cup where most of our batsmen made major runs. On previous tours too, we had some big hundreds," Dravid told reporters on arrival this morning.
Dravid backed up the robust defence of his batsmen by encapsulating the general performance of India in South Africa.
Our batsmen have enjoyed batting on South African pitches because it affords you the ability to play shots. Of course there are a few shots you need to avoid but there is also a wider range of shots to choose from."
Dravid arrived with the 16-member Indian squad for the gruelling tour comprising five one-dayers and three Test matches. India have never won a Test in South Africa on three previous visits and 10 Tests and only once in a one-dayer.
Indeed, South Africa, always a pugnacious unit, are very difficult to beat in their own homeyard, losing just 14 matches out of the 70 played since their readmission to international cricket. Dravid also said that in the absence of Yuvraj Singh, such a pillar of strength to the team in one-dayers, Mahendra Singh Dhoni would bat up the order in coming weeks.


What do you think about the story?








Read what others have to say:





Number of User Comments: 10








Sub: comment on indian team

india team is lacking confidence thats indians need foremost.especially sachintendulkar such a senior player is very very lack of confidence for whom inject of confidence ...


Posted by sreenivasreddy









Sub: prescription for Sehwag

Ganguly returns to form after 10 months break. similarly break for Sehwag will be good for him as well as the team.


Posted by chandran









Sub: whish

I hope dada do bast


Posted by DEBASISH GHOSH









Sub: loin roar

Its good to see saurav ganguly back into the side,which should have taken place some time before.It shows that now selectors are doing the best ...


Posted by Akhil Gupta









Sub: Hopeless !!!

I am hopeless ... Current Indian team looks a small child against South Africa ... Players like Sachin , dravid & kaif not performing with ...


Posted by Mudit Kumar Jain






Disclaimer