Home > Cricket > Special


The Rediff Special/Deepti Patwardhan

Uthappa has spice

October 18, 2005



Robin Uthappa stopped imitating Sachin Tendulkar and Ajay Jadeja a long time ago.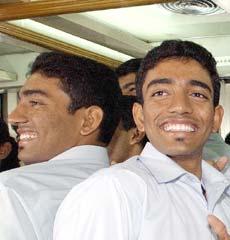 Last week,áhe stamped his own batting style on Indian cricket's canvas with authority.
The youngster produced the best knock of the Challenger Trophy, scoring 116 off 93 balls, to take his teamá[India 'B'] to the final of India's premierálimited-overs' tournamentáand rise in the popularity charts.
Uthappa cuts and drives fearlessly, and loves coming down the track to spinners. He belongs to the Sehwag school of batting, where effect is everything. Though he has shown the temperament for longer innings, as an opener he could be ideally suited to one-day cricket as he is able to find the gaps at will and launch into big hits when required.
Batting against India 'A' in the last game of the tournament, Uthappa took apart his under-19 mates R P Singh and Suresh Raina. Singh was taken for 16 runs in eight balls, while he slammed Raina for 19 off five balls.
"We hadn't planned the assault really," said the Karnataka batsman. "It was a team decision that we play out the first ten overs cautiously. After that it was really easy and we could play shots at will."
Though a day later some of the rough edges on the 20-year-old were exposed, the innings may have inched him closer to the India cap. The obvious potential that had first been showcased during the under-19 World Cup, in Bangladesh last year, had found the right platform to make an impression.
Meet Team India's new speedster
As a seven year old, Uthappa first visited the Brijesh Patel Academy in Bangalore to add an edge to his cricket exploits in school.
"Robin has always shown lot of promise," said Patel, "He was a bit heavy when he came to the Academy. He worked very hard to improve his fitness and his fielding. He is very conscious of that now."
That Robin Singh, one of the best fielders India has ever produced and his coach in the under-19 World Cup, believesáhe can lift the side with his fielding is a statement on the Karnataka lad's dedication to the sport.
When at St Joseph's Boys' High School, Uthappa played hockey as well. His father is a former international hockey referee.
"I chose cricket over hockey because otherwise everyone would have said, 'Oh, his father is a referee that is why he is playing,' I wanted to come up the hard way."
He couldn't have chosen a harder route. In a cricket-mad country, he shares the ambition of wearing the India cap with thousands others.
Indeed, Uthappa is chipping away at his dream with notable performances in domestic cricket.
He made his debut in the Ranji Trophy two seasons ago against Haryana with a quick-fire 40 and has already made some progress in his first big season with Karnataka. In his first match in 2004, he hit a massive 162 against Madhya Pradesh and farmed 88 off the Delhi bowlers.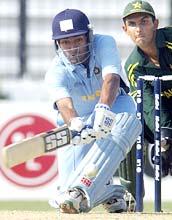 In the Ranji one-dayers, he hit a massive 160 from 129 balls, contributing more than half of his side's total against Kerala.
The batsman rates his innings against Kerala and Madhya Pradesh better than the one against India 'A' in the Challenger Trophy.
"Those two knocks are very close to me. Cricket is a team game and helping Karnataka do well there was very important.
"I was a little disappointed that I could not do well in the final. I have to improve my shot selection; that's what Greg Chappell also told me."
Saying that he had worked on his technique against the spinners, Uthappa thinks he can now bat anywhere in the order. The selectors may have put his entry into international cricket on hold, but the youngster believes he is ready for international cricket.
"I have improved a lot from last year, and though I would prefer to open I am comfortable in any position."
A few more nights like the final Challenger league game, and the dream nurtured over the long television hours spent trying to copy Tendulkar and Jadeja could well come to life.
Photographs: Getty Images
More Specials


What do you think about the story?








Read what others have to say:





Number of User Comments: 7








Sub: all the best

hi robin, had read your article.i wish u best of luck in your future.i am not a good criketer,but i have a good knowledge about ...


Posted by vinay









Sub: hiiiiiiiiiiiiii

hi Robin, its great pleasure us to greeet u... an wonderful knock of century... hope u will find opener slot for Indian Sr team as ...


Posted by santhosh









Sub: welldone UTHAPPA

Robin Uthappa is one of the growing bat(tle)s of India.I am quite sure that he will defnitely our Indian team under tough condition.Now Indian team ...


Posted by praveen surya









Sub: Uthappa has spice !

The great innings he played recently was indeed very tasty !


Posted by Dr. Cajetan Coelho









Sub: Robbin uthappa..next ..shewag..for Indian Cricket..

hi.Guys.. Uthappa was really cool in his batting style.good show of batting skills...i want see him as a opener.with shewag..for next 2007 world cup.. cheers ...


Posted by VIKRAMA PUNCHATHAR






Disclaimer