Home > Cricket > Special


The Rediff Special/Deepti Patwardhan

'Chappell will not mess around'


November 08, 2005



It is easy to lose yourself in the crowded textile street in Dadar, the heart of Mumbai. The lane is lined with gaudily displayed glassed windows, the shopkeepers screaming for attention just in case they lose their voice in the heavy evening traffic.

Turn a corner, and at the end of the lane stands a stone building, discoloured with age. A stark contrast to the commotion outside, the place greets you at a dimly lit, steep teakwood staircase under a high ceiling. Like the man, his home is a reminder of olden times.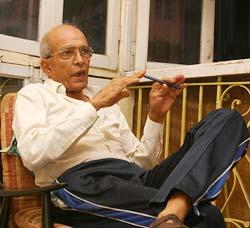 Rusi Surti spent his childhood and grew up to be an Indian Test player here before he set off for Australia. It was in the gully outside that he picked his all-round skills.
Surti is rated as one of the best fielders India has ever had, but he was also a good bat, could bowl medium pace and turn his arm over for a disciplined spell of left-arm spin when the team needed.
"When you play on the streets you are happy doing everything," he smiles. "I know I was a good batsman, but my only regret is that I was never able to see how good a fielder I was. People say I was very good, but I'll never really know."
Though fielding was not the most important task in the 1960s, when Surti made his debut for India, he did well to take Vinoo Mankad's advice.
"He told me that if you are a good fielder you will have 30 runs to your name even before you go in to bat."
Surti grew up under the guidance of stalwarts like Mankad and Vijay Merchant, and started and ended his international career at many players' favourite ground -- the Brabourne Stadium in Mumbai. In between was an enjoyable journey, staggered with sudden exits and comebacks.
His career burned the brightest towards the end, during the twin tours of Australia and New Zealand in 1967-1968. In the eight Tests, he was the most successful run-getter, scoring 688 runs (45.50) and taking 22 wickets. In the fourth and final Test at Auckland, which brought India its first series win away from home, he was out for 99 -- a score he was not able to beat.
"It is a bit of a joke with my golf buddies in Australia, who tease me that I played Test cricket but never made a Test hundred."
His disregard for statistics is also visible, as any pointed reference to his scores is waved away.
"I don't know, you'll have to check the record books.
"I think today's cricketers play too much for the records," he says.
As the discussion veers to the current cricket and cricketers, Surti makes two quick predictions. Kevin Pietersen is the next big thing and England will win the 2007 World Cup.
Then to India and Indian cricket. Unfortunately for Surti Indian cricket was in an ugly mess, with the Board of Control for Cricket in India election and the rift between captain and coach, when he returned home this time around.
"Nothing new," he says. "There's too much politics in India and this has been going on for donkey's years.
"What happened this time was very depressing. I know the best thing for everyone would be for (Greg) Chappell and (Sourav) Ganguly to say 'we were at fault; let's leave all that behind and move on'. But I'm not sure it will be that easy."
The problem was more disturbing because it involved a friend -- Greg Chappell. Before the sun set on his international career Surti played for Queensland, which later invited Chappell to lead them in the Sheffield Shield.
"When Chappell came in as captain he made it very clear that he would answer only to the head of the Board and not the 12 executives. He has a very strong persona, and, maybe, that's what the Indians are finding difficult to adjust with.
"John Wright was very soft. Chappell is a disciplinarian and will not mess around. He has certain goals for the team and he won't let individuals (players or administrators) affect them. If he thinks Ganguly does not fit in his scheme of things, he won't care a damn, however big Ganguly is in India.
"The problem with some of our players is also that they feel the world belongs to them, rather than the other way round."
Strong words from one who has stayed away from Indian cricket for more than three decades.
"The politics," he repeats, has deterred him from coming back to India and being a part of its cricket structure.
Thus, at 69, Surti is happy running a private coaching clinic in Brisbane from which he makes "lesser than what I used to earn earlier, but enough."
There are the golf buddies who rag him whenever India does badly at cricket. He returns the taunts when Australia loses.
And every once in a while, when he gets tried of the sparsely populated and spotless streets of Brisbane, he returns to the chaos of Mumbai; to the gullies and people he started cricket with.
Photograph: Jewella Miranda
More Specials


What do you think about the story?








Read what others have to say:





Number of User Comments: 30








Sub: Chappell will not mess around

Greg may be a great cricket-coach . As Azzharuddin was a great captain . But we should not tolarate any kind of activity which goes ...


Posted by Debasis Banerjee









Sub: Chappell will not mess around

Greg may be a great cricket-coach . As Azzharuddin was a great captain . But we should not tolarate any kind of activity which goes ...


Posted by Debasis Banerjee









Sub: Rusi Surti

Ten years ago I was in Trinidad and took a lift from a young man named "Surti". When I told him that we had a ...


Posted by arun visvanathan









Sub: Chappel

Discipline is very important when people represent their country. See and look at Shoib Aktar, how irresponsible he behaves, ganguly also behaved in the same ...


Posted by pooja









Sub: chappal is chappal

greig is doing afine job,we indian are emotional attached to cricket and players he should understand clearly,in my view the board is trying or trusting ...


Posted by vishvesh mehta






Disclaimer