Home > Cricket > Report


Cricket will help cool tempers: Rameez

Faisal Shariff in Mumbai | September 19, 2003 17:22 IST
Last Updated: September 19, 2003 17:28 IST



How can India and Pakistan meet when we can't even hear each other out? That is the question uppermost in Pakistan Cricket Board chief executive Rameez Raja's mind these days.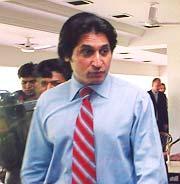 "Out of so many problems we keep quoting," Raja said, "most can be answered if we start playing cricket. Emotions will subside."
The former Pakistan opener and skipper said regular cricketing interaction between the neighbours would make at least some of the Pakistani players heroes for the Indian public. "We have Indian players as heroes in Pakistan," he claimed.
Refusing to comment on the terrorism in the state of Jammu and Kashmir, he said that is an issue best left to the politicians. "I am here to put across a message to the Indian public, not even to the Indian cricket board," he said. "If we get strength from the public, that we must play India, then this entire Asian region will benefit."
Raja said it is important for the two countries to have cricketing relations if they are to be given their due on the international stage. "India on her own will not have the strength without Pakistan," he said.
| | |
| --- | --- |
| | Related Links |
| | |
Thanks to the war in Afghanistan, terrorist attacks within Pakistan, and the war-like mobilization on the India border for the better part of last year, the Pakistani cricket team has had to travel to other neutral venues for their home series. But "we are not pushed for finances," Raja claimed. 'It [the cancelled tours] didn't hurt us much. We may be wounded, but cricket has suffered the most."

Pakistan's home series must take place in Pakistan, Raja said. "South Africa has agreed to play in Pakistan, New Zealand are coming in next. If India make it there next year, then it will be great for Pakistan cricket. Why should only cricket suffer when other contacts with Pakistan are on?"

If India plays Pakistan every now and then, he said, "we will recover all the losses."

Raja denied reports that the Pakistani government has banned Indian television channels on local cable networks. "Of course Indian channels are being aired," he said. "The ban was for a certain period, that too because the government was not happy with the Indian media. We get STAR Plus and all other channels there."
| | |
| --- | --- |
| | Exclusive! |
| | |
Raja said he wants to do more than mere administrative work for Pakistan cricket. "I want to go to the interiors and do coaching," he said. "I want to continue with my commentary. Why should a CEO be hostage to one part of the maze? If he can give his talent and expand his horizons for the benefit of his organisation, then why shouldn't he?"

Under Raja's leadership, the PCB has prepared a document called Vision 2005, which aims to help Pakistan scale the summit of world cricket. "We have achieved quite a lot already," he said. "We have 80 cricket grounds in the country, a state-of-the-art cricket academy and coaching clinics. We have invited curators from England to hold courses for our groundsmen. We are looking to improve bench strength. [We are also] working on the marketing part. Streamlining things is what I'm aiming for."

Raja denied that he was playing mind games when he said on arrival in Mumbai on Wednesday that India is playing well and looks good enough to beat Pakistan. "That is the perception in India, isn't it?" he said. "That India can beat Pakistan. That is exactly what I said."

Raja admitted that former opener Saeed Anwar had left the game in unhappy circumstances, but argued that great careers usually end on a bitter note. "People are hurt if they are asked to leave or give up something that they have excelled at," he said. "We put across a message to him, but it did not go down well."


What do you think about the story?








Read what others have to say:





Number of User Comments: 10








Sub: Pakistan's performance

I think the biggest problem with the Pakistan team is lack of leadership.Inzimam is a great player,but not a good leader.He tends not to keep ...


Posted by ash









Sub: Foolish thinking

I cant stop my laughter. how can one think that cricket can be used for cooling the temeramament. Can u explain rameez if this can ...


Posted by Pankaj









Sub: India shouldnt play Pakistan !

India shouldnt play pakistan till the bilateral issues between two countries are sorted .Cricket in India is being followed by milliions and while Indians are ...


Posted by Suresh









Sub: Make temper in one end and talk like this in other end

You people are playing real cricket.In one end you are creating problems in another end giving statements like this. You guys are Real Cricket Followers. ...


Posted by Vijay









Sub: Cricket will help

I agree with Rameez. Not only cricket, but the best medicine against terrorism and all the ill feelings and the rhetoric is to open the ...


Posted by Partha






Disclaimer