Home > Cricket > Special


The Rediff Special/Harini Rana

The best according to Brett

September 19, 2003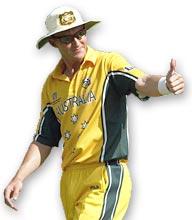 He is a sensation in Australia. An athlete, fashion designer, and member of a band called Six and Out. Batsmen fear him and his near 100mph thunderbolts.
The name is Brett Lee.
On the last day of his four-day visit to India, 'shabbash-shabbash', 'chalo-chalo', 'jaldi- jaldi' and 'shukriya' pepper his conversation.
"India is excellent," he remarks as we walk towards his room. "I had been to Delhi, but couldn't spend much time there as I did in Mumbai." But "I like the Indian culture and the people."
| | |
| --- | --- |
| | Exclusive! |
| | |
'No matter what...', from Boyzone, is what he sings, with a guitar in his hands, pleasing his sponsors, a few kids in the hotel lobby, and shaking hands with the ad filmmaker.

His role as brand ambassador over for the moment, Lee has a quick massage and then it's time to pack his bags for Australia.

Lee has helped Australia to some great victories; his hat-trick against Kenya in the World Cup 2003 being the latest addition to the list.

His trademark leap in the air on taking a wicket, says Lee, is "pure emotion, it's something I love doing. It's nothing like I am putting up a show. It's just that I have been doing it since the age of 16."

As we sit down for a talk, Lee's media manager passing by whispers, "Only a few minutes." So, without delay, we get to the point and ask the fast bowler to rank and assess his top five Indian batsmen. This is his list: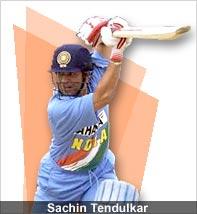 Sachin Tendulkar, the world's best batsman and a bowler's nightmare.
Special: Sachin, 30
"He is this big, holds a bat this thick, you think he is so short in front of you," Lee goes.
On a more serious note, he says, "He is a guy with so much talent. Potential is not a word to use for Sachin because he has already proved his potential. He is a world-class player and a huge threat.
"I have a few plans to confront him; we try and treat him like any other batsman. Bowl the right line and length, and hopefully that will be enough to get him out. But we will have to wait and see that."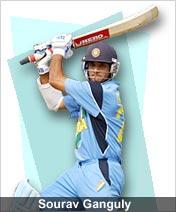 Sourav Ganguly, captain courageous, a southpaw who is uncomfortable against short-pitched bowling. The Bengal tiger has given India a flying start many times.
Special: The prince who became king | Captain Snooty?
"Ganguly is one guy, who plays very well and has got a good eye. He plays a full ball very well. We will try a few different things to him, maybe a few short balls, just to see what happens and how he handles it."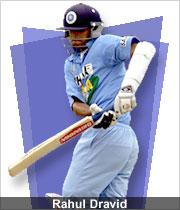 Rahul Dravid, The Wall, known for his technical game and the spine of India's batting. A batsman who can keep wickets.
Special: The Unsung Hero
"Rahul is always hard to bowl to, as he is technically very sound. He is an attacking player once he gets his eye in. He also has the ability to stay long, which the team experienced during the Test match in Calcutta."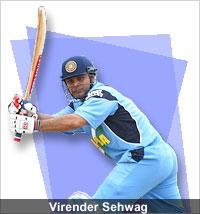 Virender Sehwag, aka Tendulkar of Najafgarh, known for his heroics with the willow.
"He is the same as Sachin, a clone of Sachin, I reckon.
"He is very attacking by nature and nothing stops him from having a go at the bowlers.
"You have got to be really careful bowling to him."
V V S Laxman, Very Very Special Laxman, the man who stopped Australia.
Special: Very Very Special...
"'He has got really quick feet. He is a world-class player. I put him alongside the top Indian batsmen because of his innings of 281, which showed his real potential. He cost us the Test at Calcutta, and he showed tremendous abilities in that knock."
That's about all as Lee's manager reappears, saying, "Time up!"
"I am looking forward to the series," says Lee as we exchange goodbyes. "See you again when I am back to play."
More Specials


What do you think about the story?








Read what others have to say:





Number of User Comments: 6








Sub: i think the players are pampered in india

Yes, India is the only place where the player's worth is described in paper.U can't watch them on t.v.Being a cricket fanatic nation india has ...


Posted by Madhusudhanan









Sub: Praise

What I Think is that it is not enough to praise Brett.He is SUPERB!! He is fast in everything PLaying,learning languages,music.Just the type of guy ...


Posted by Anuradha









Sub: But not your best

Is the best according to Bret Lee or the reporter. This shows the sickening attitude of our press people to go over the moon for ...


Posted by SsR









Sub: india is the greatest

india is the greatest team in the world


Posted by ashutosh









Sub: SUGGESTION

Dear Selector, Consider India's new sensation Munnaf Patel, Give Him chance against Australia and Kiwis. I think this is big opportunity for him to proove ...


Posted by Deeps






Disclaimer