Home > Cricket > PTI > Report


No one-dayers up to u-17 level

July 03, 2003 17:26 IST



Acting on the recommendations of prominent spinners of yesteryear, the Board of Control for Cricket in India announced a ban on one-day matches for junior teams up to the under-17 age group.

Board president Jagmohan Dalmiya told reporters in Delhi on Thursday, that the Working Committee, on the second and final day of its meeting, had accepted all the three recommendations of the spinners' panel with a view to promote spin bowling in the country.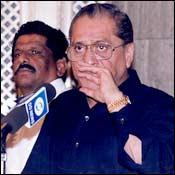 "We have decided to accept all three recommendations. As such, we have decided that there will be no one-day cricket for teams up to the under-17 level," Dalmiya said.
The other two recommendations pertain to conducting regular workshops for spinners at the zonal level and inviting former spin greats to train youngsters.
In a bid to revive India's past glory in the spin department, the BCCI held a conclave of former spinners in Kolkata last month. The spinners were unanimous in their view that the overwhelming number of one-day matches was responsible for the decline in spin bowling.
Dalmiya, however, clarified that India would participate in the Asia Cup under-17 tournament, a one-day event, this year.
"We are to host that tournament and as such we cannot go back on our commitment. But after the tournament we intend to approach the Asian Cricket Council to request that henceforth the Asia Cup be made a two-day event," Dalmiya said.
Dalmiya also announced the acceptance, in principle, of suggestions made by captains and coaches of Ranji Trophy teams to improve the quality of domestic cricket.
He said the recommendations had been sent to the Technical Committee for consideration.
He also revealed that the captains and coaches had expressed their satisfaction with the new format of the Ranji Trophy tournament, in which the teams have been split into two groups -- Elite and Plate.
"The new format for the Ranji Trophy will therefore continue," he added.
He said the Working Committee also gave its approval to a suggestion to invite a maximum of two foreign teams for the Duleep Trophy.
"We will invite one or two foreign teams to participate in the Duleep Trophy. These teams will not be national teams but something like county sides from England or teams playing in the Busta Cup in the West Indies, which are of the same standard as our domestic sides," he said.
Photograph: Ranjan Basu/Saab Press
© Copyright 2005 PTI. All rights reserved. Republication or redistribution of PTI content, including by framing or similar means, is expressly prohibited without the prior written consent.



What do you think about the story?








Read what others have to say:





Number of User Comments: 4








Sub: weired!

It seems a bit weired to me. Instead of stopping them from playing one day cricket they should have asked all the coaches to ask ...


Posted by Shyam









Sub: No one dayers upto u-17 level

It would be unfortunate that in a bid to boost spin bowling there is blanket ban on one dayers upto u-17. It is strategic blunder.India's ...


Posted by Anil Panikar









Sub: avoid mistakes of the past

The decision of BCCI that no one day cricket for U-17 guys is stupid. A player like Sachin tendulkar made his international debut at the ...


Posted by Jagan Gopinath









Sub: Ranji trophy

All the reccomendations are ok, but I feel to make Ranji trophy more exciting and to get the best out of all the players , ...


Posted by sk






Disclaimer