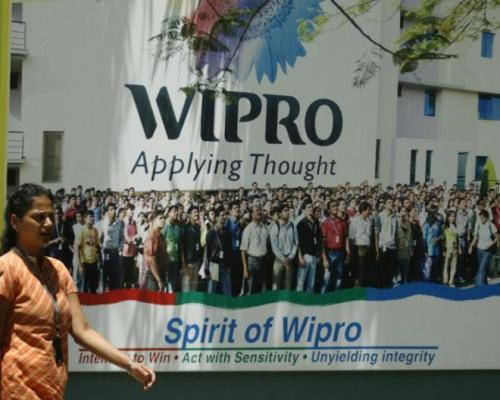 Wipro, India's third largest information technology (IT) services company, is expected to continue with its strong show during the October-December quarter of financial year 2014.
After disappointing the Street for seven quarters, the Bangalore-based company rebounded, posting strong growth in July-September 2013, backed by revival in demand for the sector.
According to analysts, in the quarter ended December , revenue growth is likely to be closer to its peers at 2.5-3 per cent, primarily aided by a rise in demand and some cross-currency benefits. Wipro had forecast sequential revenue growth of 1.8-3.6 per cent for the quarter.
The Bangalore-based company will detail its Q3 earnings on Friday.
"Wipro's revenue growth will likely to be close to the top-end of its peer group after several quarters of lagging behind," said Kotak Institutional Equities. The brokerage house expects Wipro's revenue to rise 3.3 per cent during the third quarter.
Last week, Wipro's close competitor Infosys posted a 0.5 per cent sequential growth in revenue for the third quarter; even the latter's net profit rose 19.4 per cent. Wipro's growth in the quarter is expected to be driven by verticals such as energy, natural resources, utilities, healthcare & life science and retail. However, high-technology and telecommunications are likely to remain the laggards.
"Wipro is likely to end the quarter closer to the mid-point of the revenue-growth guidance. We expect growth to be broad-based but led by the life sciences and the energy and utilities verticals," Anand Rathi Shares and Stock Brokers said in a note. "For Q3, the growth trends in BFSI (banking, financial services and insurance) and in manufacturing would be the key factors to watch."
Additionally, most analysts expect the Azim Premji-led company's margins to remain stable-to-marginally higher during the quarter.
While Angel Broking expects the company's margins to inch up 22 basis points (bps) sequentially "on account of increase in utilisation level", brokerage firm JPMorgan expects margins to rise 50 bps backed by productivity-based gains. (A basis point is a hundredth of a percentage.)
The Street is likely to keep an eye on the management's comments about the recently announced move to shut the low-margin hardware manufacturing business. This is expected to help the company in the medium-to-long term.
"Client metrics need watching particularly revenue growth from top 10 clients and change in large client buckets (not merely in above $100 million but also client buckets above $10 million, $20 million and $50 million)," JPMorgan said.
With the return of growth momentum at the company, analysts now also have big hopes to the company's guidance for revenue growth in January-March 2014.
Most analysts expect the lower end of the guidance to be "at least 1.5 per cent", while at the higher end, the company could peg its growth up to 3.5 per cent sequentially.
"Wipro is trying to return to industry growth rates by FY15. Therefore, the exit rate of FY14 will play an important role in determining its growth momentum in FY15. In our opinion, the sequential growth outlook of more than 2 per cent should be seen as an indicator of the company's return to generally healthy growth in FY15," added brokerage firm, Anand Rathi.
Any updates on large deal wins, client budget, and hiring plans for next year would also be watched out for, analysts said.