Wipro Technologies, whose financial performance has largely stabilised lately, is understood to be closing in on a mid- to large-sized acquisition that could be valued more that $400 million (around Rs 2,414 crore).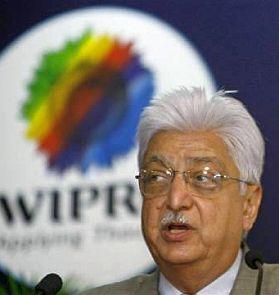 According to sources privy to the development, the Bangalore-based information technology (IT) services company, India's third-largest, is evaluating a few fairly large options in geographies like the US and Germany.
The company's merger & acquisition team is learnt to be working overtime to ensure the deal is closed in the current quarter.
Asked about the plan, Wipro Chief Financial Officer & Executive Director Suresh Senapaty confirmed the company was scouting for an acquisition.
He added the size and scale of the target company would not be a constraint, as Wipro had in the past successfully executed many acquisitions, some of those fairly large.
On the timing of the deal, Senapaty told Business Standard: "I can't rule out (an acquisition in the April-June quarter), but I can't say for sure... There are (talks), definitely. But if you ask about closure... of all the cases and everything in the deal, the answer is no. These are like binary situations... may happen, may not happen."
Among business verticals, Wipro is primarily looking at strengthening its presence in areas like oil & gas, health care, analytics and cloud. With its acquisition of US-based SAIC's global oil & gas technology services business in 2011 for $150 million, the company had made this intention clear.
In an earlier interview with Business Standard, Wipro's senior vice-president (healthcare & life sciences), Sangita Singh, had said the company was looking for acquisition opportunities in the US' healthcare space.
Besides, Wipro recently raised its stake in US-based big data and analytics firm Opera Solutions to 12.5 per cent by buying an additional 6 per cent. In doing so, it indicated it was focused on ensuring growth in the new technology areas.
"For us, these are areas where we want to put differentiated dollars; we want to spend more and we want to pick that niche," Senapaty said.
Wipro, which earlier had a very aggressive acquisition strategy, is known for its string-of-pearls approach. As part of this, it bought many companies over the years to fill strategic gaps in its business.
Wipro's largest acquisition so far has been that of Infocrossing, a Nasdaq-listed company the Indian firm bought in August 2007 for about $600 million (about Rs 2,430 crore).
According to many industry sources, the size of the acquisition Wipro is currently pursuing could be similar to that of Infocrossing.
Senapaty also clarified money would not be a problem if the company was making a big acquisition. "Money is not a constraint. We have cash; we can leverage more; we can raise more money through equity, or even debt," he added.
As on March 31, Wipro held cash and equivalents of Rs 11,420 crore (Rs 114.20 billion). According to Senapaty, the acquisitions the company has done in the past have proved good.
"If I look at acquisitions in the past 10 years and aggregate, those constitute more than 20 per cent of our revenues today and deliver operating margins of one-two per cent lower than our company average. Our returns on capital employed in those acquisitions is more than 20 per cent," he said.