Yum! Brands' Pizza Hut has spiced up competition by launching a big pizza (10.5 inch) at an aggressive price of just Rs 199 (excluding taxes).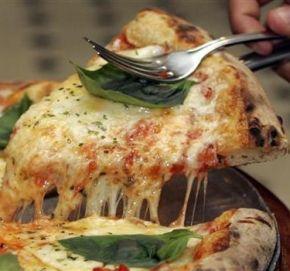 This pizza is similar to the medium-sized pizza of Dominos which is about 10 inches.
While Dominos' medium-sized pizzas start at similar price-points, the lowest-priced pizza (Rs 245, including taxes) comes with just two toppings – cheese and cheese & tomato.
On the other hand, Pizza Hut's new offering comes in five different toppings, each containing three-four varieties of vegetable toppings, along with cheese.
Medium-sized vegetarian pizzas with similar toppings are priced at Rs 335-Rs 400 at Dominos.
"The pricing of Pizza Hut's new big pizza is very attractive. It shows challenges at the consumer-end. Pizza is a very high-margin business.
For example, Dominos earns 70-75 per cent gross margin on one pizza.
Thus, players can afford to reduce some margins. In a slowdown, volumes are much more important.
Jubilant (Foodworks, Dominos' parent) and other pizza companies are doing a lot of promotions and are already very aggressive.
'One has to wait and watch if these companies, too, come out with similar offers", says Abneesh Roy, associate director, institutional equities, research, Edelweiss Securities.
After taxes, the pizza is priced at Rs 230 maximum, as per the Pizza Hut management. Jubilant Foodworks declined to comment on the story.
Says Sanjiv Razdan, general manager, Pizza Hut & Restaurant Excellence., "It is a tough consumer market given that consumer sentiment is down. We are offering the consumer amazing taste at unbelievable value. That is our basic philosophy for 2014.
We need to do two things. One, dislodge customers from our competitors and two, bring new customers to the pizza category. Thus, the focus is to bring new customers into the Pizza Hut-fold. Our big pizza is priced 25-30 per cent lower than that of competitors. Plus, we have tailor-made it for the Indian palate.
The offer is on air for about 20 days now and results so far have been very encouraging. We have witnessed 30 per cent uplift in transactions, post this offer."
While this offer is aimed at boosting pizza demand, it could eat into the margins of Pizza Hut. But the management is focusing on driving volumes.
"Our focus is on achieving significant incremental growth. We believe our margins will be squeezed but we are hoping that the higher volumes will compensate for margin dilution", adds Razdan. Interestingly, there are no terms and conditions for this offer and one can buy this pizza anytime, either for home-delivery, take-out or when dining out.
This move is a sign of the weakening consumer demand in this segment, say analysts. They believe it could intensify competition in the pizza category, and the overall quick service restaurants segment.
A key concern is the possibility of cannibalisation of higher-priced pizza products. With a product at this price-point in quick service restaurants, consumers may move away from higher-end pizzas. "While we have not checked with other pizza companies, we believe they will have to come out with similar offers to protect their customer base. We think this offer could reduce the demand for regular pizzas significantly" believes Roy. Pizza Hut management, though, differs.
Razdan adds,"The majority of our sales come from pan pizzas. The big pizza is made relatively softer and is quite different from pan pizzas. We are seeing a little bit of cannibalisation, but the crux is to retain customers. We believe, after a while, customers will go back to their earlier choices."