Markets will continue to remain volatile till the Chinese economy shows some signs of stability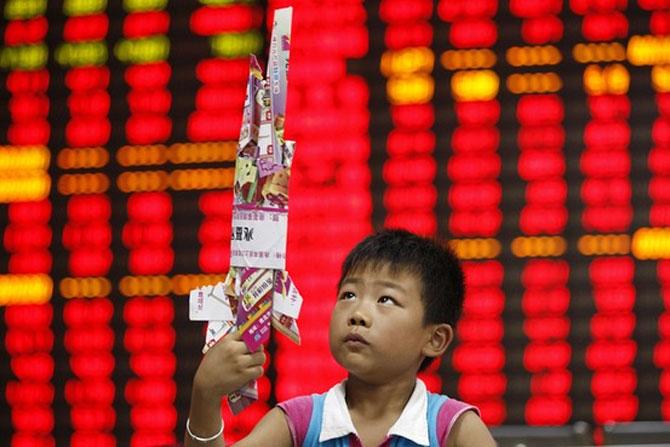 Hangover from the New Year's celebrations had barely receded when Chinese markets dropped the next headache. China bourses were forcefully shutdown when they hit the 7 per cent circuit-breaker limit on the first day of trading. An immediate reaction to the fall was that it is a structural problem of the Chinese markets.
Commentators were quoted as saying that the ceiling limits introduced by Chinese regulators were much too close as compared to those of other markets. For example, US markets have a ceiling of 20 per cent before the exchange is officially shut down as compared to only 7 per cent in China.
Other reasons being quoted was that the ban imposed on selling by large investors in August is coming to an end. Lifting of the ban could free up more than 1.1 trillion yuan worth of holdings, or around 5.8 per cent of total A-share free float, to be sold, Goldman Sachs estimated in a note on Tuesday.
But there are more fundamental reasons at play than the structural market issues. Market experts are jittery over how the Chinese economy is unfolding. Madhusudhan Kela, chief investment strategist with Reliance Capital, had said in an interview there would be a lot of uncertainty in global markets this year, with the biggest being how the Chinese slowdown story plays out.
It's the slowdown numbers that actually triggered the fall in the Chinese market. Though government numbers continued to show bullishness, a survey conducted by Chinese media group Caixin showed that PMI fell to 48.2 in December from 48.6 the previous month. Any number below 50 represents a deceleration in the factory sector. The government's official manufacturing gauge presented a rosier picture; it is heavily weighted toward large enterprises. The Caixin survey taps a smaller sample size and places greater emphasis on smaller firms.
Apart from the slowdown, the other number weighing on investor sentiment is the Chinese currency. A drop in the yuan makes repayment of foreign debt held by Chinese companies costlier. Further, the well-to-do Chinese are sending their money out of the country as yuan continues to fall. It is now trading near a five-year-low level.
People's Bank of China (PBOC) decision to push more yuan into the markets is also be related to the continued flow of capital out of China. In the third quarter, total net capital outflows continued for a sixth straight quarter, reaching a record of $221 billion, according to data from Societe Generale.
After giving up on domestic growth, China is now trying to control its currency in order to help its exporters. Craig Stephen an expert on China points out that some $500 trillion of foreign reserves were used up last year to support the yuan and money mobilised to buy stocks has been estimated at 5 trillion yuan or 105 of gross domestic product.
China is increasingly placing its bets on the financial markets. President Xi Jinping of China has been quoted in the mainland press as saying that China will face increasing challenges over the next five years for which strong stimulus to boost development is no longer the solution.
This is being read as the Chinese government will have to go back to pushing its economy forward by rejuvenating its loss-making heavy industries, cleaning up its banking system and laying off excess labour.
Irrespective of the path that the government chooses what is coming out clearly from China is that it will be some time before good news starts flowing from the country. Markets will continue to remain volatile till the Chinese economy shows some signs of stability.