The unemployment rate in the US is little changed at 7.9 per cent in October with the addition of 171,000 new jobs, reflecting signs of a steady but slow recovery.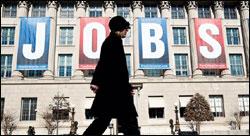 Total non-farm payroll employment increased by 171,000 in October, and the unemployment rate was essentially unchanged at 7.9 per cent, the US Bureau of Labour Statistics report today said, adding employment rose in professional and business services, health care, and retail trade.
This, however, does not account the devastation caused by Hurricane Sandy in the last week of October in the Eastern Coast of the US, in particular States like New York and New Jersey.
The US Bureau of Labour Statistics said among the major worker groups, the unemployment rate for blacks increased to 14.3 per cent in October, while the rates for adult men (7.3 per cent), adult women (7.2 per cent), teenagers (23.7 per cent), whites (7.0 per cent), and Hispanics (10.0 per cent) showed little or no change.
The jobless rate for Asians was 4.9 per cent in October (not seasonally adjusted), down from 7.3 per cent a year earlier.
In October, the number of long-term unemployed (those jobless for 27 weeks or more) was little changed at 5.0 million. These individuals accounted for 40.6 per cent of the unemployed, it said.
"US job growth accelerated in October, but the unemployment rate ticked higher, signs of a steady but slow recovery as the presidential candidates make a final push ahead of next week's election," The Wall Street Journal reported after the figures were released.
Economy and the high unemployment rate has been one of the major issues of election campaign.