Suresh Senapaty, the city-based company's long-time chief financial officer, who will attain the retirement age of 58 in March next year, says the succession plan is nearly foolproof and has worked well in "nine out of 10 cases" in his department.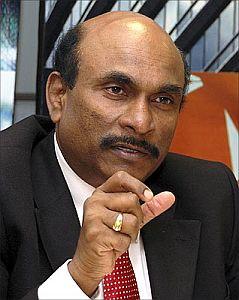 "For us, succession planning is a process in which for every individual in a critical position, a successor has been planned. The successor is a potential replacement who could take charge immediately," Senapaty told Business Standard.
"There is succession planning for all of us, whether it is (chairman Azim) Premji, (chief executive T K) Kurien or me. Even for our direct reports, we have succession planning in place. This plan goes two levels below."
Wipro also had a plan to replace account managers, especially those handling key accounts, Senapaty said. "For account managers looking after key accounts, we have a plan about who could succeed him and who is ready. We also have a fair idea about who will be ready in three-five years," he said.
"We don't share the details of these plans, but there is a process in place and individuals have been identified, with alternatives, for replacements."
In the past, Wipro has seen several senior exits, which led the company to make changes to its structure.
In October last year, the company saw the exit of 25-year veteran Anand Sankaran, senior vice-president, Wipro Infotech and the company's global infrastructure services. The exit was followed by a management restructuring.
Currently, Sankaran is president, global technology major Dell, heading the company's global infrastructure and cloud business.
Many former Wipro senior executives are now part of mid-sized IT services company Mindtree, founded by former Wipro employees.
In May this year, Ralf Reich, Wipro's vice-president and regional head for the DACH (German-speaking countries such as Germany, Austria and Switzerland) region, had moved to Mindtree as head of operations for Germany, Australia and Switzerland.
"No one can guarantee anything, not even about succession planning," Senapaty says. "When we see uncertainty in the marketplace, whether at a peer company or elsewhere, it does add to complication and you feel you need to take care of it. That makes us more alert…generally, I have seen 90 per cent success in the plans we make. For most of my direct reports, the planning has worked."
On what he plans to do after retirement, Senapaty says, "We will cross the bridge when we get there… Retirement is just a change of role. An employee can continue with the company; it depends on mutual agreement."