Helped by demand for notebooks, the PC shipments market in India grew by 4.9 per cent to 2.99 million units in July-September period of the current year over the previous quarter, global market intelligence and advisory services provider IDC said on Tuesday.
The shipments, however, on a year-on-year basis declined by 5.4 per cent, it said.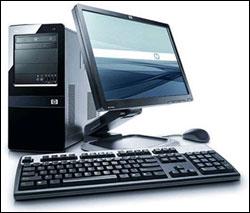 According to IDC, the consumer demand was noted to be firm in the third quarter of CY12, as the domestic consumer continued to be resilient to challenges such as economic slowdown and high inflation.
Similarly, the sequential (Q-o-Q) growth for consumer PCs stood at 13.5 per cent while the year-on-year drop was 0.9 per cent.
"Consumer demand for notebooks is emerging as the sole bright spot in the India PC market, even as the commercial PC market continues to be bucked down by economic slowdown," IDC senior analyst Kiran Kumar said.
Uncertain investment environment continues to be a major letdown for commercial PC buyers who remained to be cautious with their spending in the third quarter of 2012, he added.
In terms of vendor share, Chinese PC maker Lenovo sustained its lead with a 16.9 per cent while HP recorded a 15.6 per cent and Acer 15.5 per cent share during the quarter.
"Fulfilments for the ELCOT notebook project continued to drive Lenovo and Acer to take the top places in the domestic PC market respectively. HP sustained its dominance, specifically in the consumer PC market," he said.
Launch of new series of notebooks in the entry and mid-price band segment helped the vendor fuel its growth in the third quarter, he said.
Channel 'linearity' and seasonality supplemented their marketing investments and channel engagement efforts to boost their growth in Q3 2012, he added.
"Despite having a well spread festive season in Q4 (of calnedar year), we expect the overall demand for PCs to be weaker and anticipate enterprise users to remain wary about their spending in Q4 2012," IDC research director Venu Reddy said.