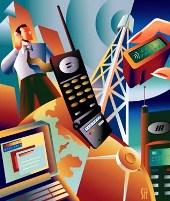 The Supreme Court order cancelling its licences notwithstanding, telecom player Uninor added the second highest number of subscribers at 2.34 million in February, after Idea Cellular at 2.58 million.

It was way ahead of market leaders Bharti Airtel (1.8 million additions) and Vodafone (838,071).

On February 2, the court had ordered the cancellation of 122 licences issued in January 2008 under then telecom minister, A Raja, and directed the government to conduct the auction of vacated 2G spectrum in four months.

Though the additions for Uninor declined around six per cent in February, from 2.4 million, it managed to increase its market share to 6.3 per cent from 5.9 per cent in January in the GSM segment.

Uninor, a joint venture between Norway's Telenor and Unitech Group, had 41.14 million users at the end of February this year, according to the Cellular Operators Association of India.

Uninor said in an email, "We are very satisfied with our performance in February. Despite an adverse verdict on our licences, we see that customers in India have continued to choose Uninor over all but one large and established operator."

Sistema Shyam, which offers CDMA services under the MTS brand, added 232,557 users in February, against 143,434 in January.

The total subscriber base of Sistema Shyam, a joint venture between Russia's Sistema and Shyam Group, stood at 15.43
million at the end of February.
A company executive from MTS attributed the decline to the regular clean-up of non-active mobile users.
A telecom expert tracking the sector said of the new players, only Telenor and Sistema had invested huge amounts of money in their Indian telecom businesses.
And, only these two have a significant number of subscribers and a presence in many circles.
"These operators will continue to add numbers with their aggressive marketing strategy and new tariff plans. The Indian market is prepaid-dominant, so users will avail facilities till they can and in future, can shift to another operator though MNP (mobile number portability) or take a new number."
Another telecom analyst and director of consultancy firm Com First India, Mahesh Uppal, echoed the view.
"Most new users are probably prepaid users with multiple SIMs. Since voice is a generic or 'vanilla' service, they are happy to enjoy the bargains till they can and will revert to other SIMs when they can't."
Videocon added 348,880 subscribers in February, against 405,846 in January, with a total base of 6.1 million. It also increased its market share marginally to 0.94 per cent from 0.90 per cent in January.
Etisalat (Etisalat DB) and Bahrain Telecom (STel) have already announced their plans to exit India after the SC order. So, their subscriber additions were nil in February.