For long now, IT bellwether Infosys kept conveying to investors that it was investing in building capabilities for the future.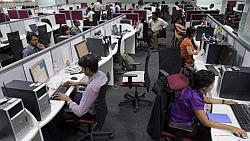 While focusing on the future, the company took its eyes off the bread and butter business (application, development and maintenance). That the market punished the company for doing so is legion.

But a struggling Infosys symbolises the transformation India's offshoring model is undergoing. The cost arbitrage model is on its last leg, as application, development and maintenance is getting commoditised.

Analysts say clients are no longer looking at project execution but are seeking advice and innovation. But that's not new.

What is new is that the new business opportunities are complex and fraught with balance sheet risks. Revenues are no longer billed by the hour, which is why revenues billed are not at par with deal wins.

India's top four IT services companies are building skills in mobility, cloud and social media. As projects get more complex, the risk is also increasing for companies.

Unlike in the past, Indian companies are now willing to take on more risk on their balance sheets in order to win contracts.

For instance, Indian companies are now making upfront payments for large deals, taking on clients' employees on their rolls and acquiring assets of customers. Companies that can manage the transition and operate
in this complex environment will likely survive.
If companies are able to successfully innovate, they should be able to continue on a revenue growth trajectory of 10-20 per cent in the next few years, says Barclays.
With the deal construct changing, companies are increasing their onshore employee base, which adds to the costs.
Higher costs arising from increased local hiring and upfront payments for large deals have an impact on margins too, which is apparent from the margin decline seen by most companies.
According to Credit Suisse, "In some cases, customers demand some upfront payment. Some projects need customer employees to be taken up. Others require the vendor to take some of the risks and service fees are outcome-based. Given these issues, we believe that it is unlikely that such large deals can have operating margins in the high 20s."
Analysts believe Accenture's margins could be in the 18-19 per cent range after adjusting for the same offshore mix and that's where margins of Indian vendors will head sooner or later.
This possibly explains the wild swings in valuations over the last few years. Over the last couple of years, TCS has traded at a 12-month forward multiple of 7-26 times, while Infosys between 10 and 29 times.
As political and business risks increase, valuations will remain volatile. However, according to most analysts, TCS, Cognizant and HCL Technologies are best placed in terms of project execution and profitability.