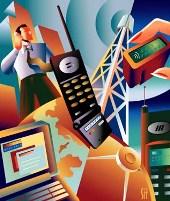 The department of telecommunications is planning to hold a third round of auction of unsold spectrum under the 1800 MHz band in 18 circles immediately after the March auction to comply with a court order, a high-ranking telecom official said on Monday.

"DoT is also considering increasing the quantum of airwaves it would put in the March auction for the Karnataka and Rajasthan telecom circles," said DoT Secretary R Chandrashekhar.

The government has 97 blocks of 1.25 MHz spectrum each, which DoT can put on the block in the third round.

The 121.25 MHz of spectrum that would be auctioned in the third round would have a base price of Rs 9,755.73 crore (Rs 97.55 billion), based on the market-determined
price discovered in the November auction.
Last week, the Supreme Court had asked the government to auction all airwaves that would be vacated after cancellation of 122 telecom licences. In November, the government had earned Rs 9,407.64 crore (Rs 94.07 billion) by auctioning 1800 MHz of spectrum.
Though the government had auctioned 176 blocks (1.25 MHz each) of the 198 blocks in the November auction, it managed to get bidders for only 101 blocks.
Because of high reserve prices, Mumbai, Delhi, Karnataka and Rajasthan did not get any bidder.
Consequently, the government reduced the base price for these circles and has now planned a fresh auction on March 11.
Chandrashekhar said the quantity of airwaves being sold in the Delhi and Mumbai zones were already compliant with the court order.