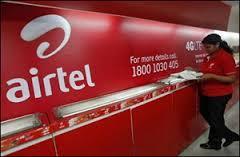 Data is the next big thing in telecom.

Voice has become a commodity, and data is what will help telcos create differentiation.

Bharti Airtel, the market leader, knows the telecom wars in the days to come will be fought over data market share.

At the moment, over 11 per cent of its mobile revenue comes from data; the company wants to raise it to at least 20 per cent in the next two years.

Company executives say they have all it takes to achieve this target: a 3G (third-generation service) and 4G (fourth-generation service) footprint which covers 77 per cent of the urban population, a strong brand and a subscriber base of over 200 million.

Bharti Airtel may have made serious inroads into the data market.

According to analysts, it has captured over 45 per cent of the incremental data revenue market in mobile services this year.

It has as many as 58 million subscribers who access data on its 2G (second-generation service), 3G and 4G services -- they constitute nearly 28 per cent of its total subscriber base. Its data-user base is more than twice of Idea Cellular (25 million); its 10 million 3G subscribers are twice the number of Vodafone's.

Bharti Airtel also has over 1.3 million broadband subscribers in 85 cities -- that are connected by an optic fibre network and give revenue that is nearly six times higher than a voice-only subscriber.

Bharti Airtel is now bracing up for the toughest challenge of its life in the data space. Mukesh Ambani's Reliance Jio is investing around Rs 40,000 crore (Rs 400 billion) to launch pan-India 4G services by the fourth quarter of this year, according to industry watchers.

And it is expected to launch disruptive pricing by sharply dropping tariff to woo subscribers.

It recently bought Network 18 -- its businesses include TV channels, movie production houses, home shopping and e-commerce sites -- which it plans to leverage in order to push data usage.

Many of its subscribers could come from the incumbents -- lured by low tariffs and bundled content.

Falling back on strengths The challenge is formidable indeed.

And Bharti Airtel wants to meet it by leveraging those strengths which Reliance Jio does not have.

While Reliance Jio has spectrum in the 2300 Mhz and 1800 MHz bands, Bharti Airtel is the only telco with spectrum in all the bands: 900 MHz, 1800 MHz, 2100 MHz and 2300 MHz; so it can offer seamless and varying data offerings to suit different needs.

In other words, while Reliance Jio will focus on 4G data service, Bharti Airtel will offer a full suite of data options for customers using 4G, 3G and 2G services.

With this in mind, Bharti Airtel has split the market into three segments based on the price of devices.

At the top will be 4G services where Reliance Jio is obviously going to focus in the initial years.

Bharti Airtel executives say this segment will have a small subscriber base but those subscribers will turn in healthy revenues.

Analysts say high average revenue per user customers and data market together could be worth $5.1 billion by 2018, or 18 per cent of the telecom market.

Bharti Airtel believes this market will take at least three more years to mature.

It has already launched 4G services in five cities.

Aware that the 2300-MHz band has spotty coverage in many areas, it has bought spectrum in the 1800 MHz band which can also be used for 4G service -- the service falls back on this band wherever the 2300
MHz spectrum is erratic.
But this is a game Reliance Jio too can play, though it has lost the crucial first-mover advantage to Bharti Airtel.
Growth of this market will depend on how quickly prices of 4G handsets fall. Currently, at over Rs 20,000, they are too steep to build a viable market, but Bharti Airtel executives expect the prices to go below Rs 10,000 in due course of time.
But it is clear that it won't subsidise these handsets, though it is open to buying them in large volumes and passing on the lower prices to customers.
Growth will also depend on the tariffs. Reliance Jio is expected to bring down tariffs dramatically.
Bharti Airtel executives point out that currently realisation from data is even lower than voice and considering the huge investments made by all telcos, especially for spectrum, the low tariffs cannot be sustained too long.
"You can have disruptive pricing for a year, but you can't continue it for five years," says a senior Bharti Airtel executive.
"So once its (Reliance Jio's) empty network starts filling up, it will have no option but to increase tariffs.
"That apart, analysts are convinced that Bharti Airtel has no choice but to match Reliance Jio's tariffs -- only to ensure that its data customers, including those on 2G and 3G networks, do not migrate to Reliance Jio. That could surely strain Bharti Airtel's financials.
The last rung At the bottom of the market is the 2G segment which still provides a substantial portion of the company's data revenues.
In time, these subscribers, who use mobile phones in the Rs 600-700 range, can move up the value chain. Bharti Airtel executives say the big challenge is to get subscribers to sample data for the first time.
So, the company came out with data sachets of Rs 1 last April which allowed subscribers to download a video.
In September, the company broadened the offerings by launching the 'Entertainment Store' from which subscribers could download a music video and use 3MB of data for browsing social network sites for a day at Rs 1.
The company saw 26 million subscribers buying these offers, out of which 20 per cent were first-time users and a large chunk of them came from the rural markets.
Bharti Airtel will face challenge from Reliance Jio which is planning to offer 4G speeds on any mobile phone which is wi-fi enabled just by adding a small converter.
Between 4G and 2G is the 3G segment. Bharti Airtel wants to push its 3G services in a big way.
At the moment, it has only 10 million 3G subscribers -- less than 5 per cent of its total subscriber base.
The problem it faces, like all other telcos, is that it has only 5 MHz spectrum for the service which is not enough for high-quality video streaming.
Also, till recently inter-circle roaming pacts between 3G operators was not allowed, which restricted Bharti Airtel's 3G service to 11 of the country's 22 telecom circles.
However, recently the Telecom Disputes Settlement & Appellate Tribunal allowed such pacts amongst telcos, which will help Bharti Airtel expand its footprint.
Bharti Airtel executives say the problem of patchy quality should get resolved once the government puts more 3G spectrum up for auction.
That will also encourage telcos to expand their 3G infrastructure. For instance, only 22 per cent of Bharti Airtel towers across the country are 3G enabled right now.
All this will help improve data usage.
In other words, the party has just begun for data subscribers.