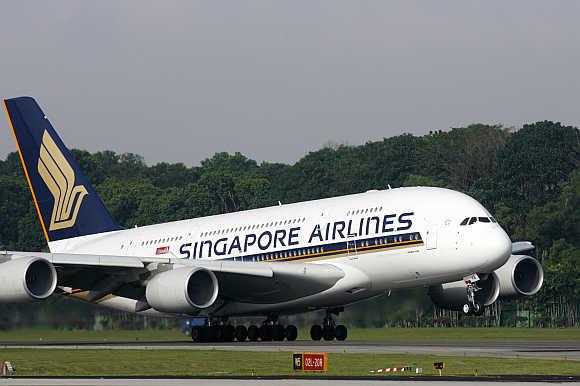 Tata-SIA Airlines has registered several names to brand their proposed airline and one of the serious contenders is Vistara. The brand name is set to be unveiled on Monday.
Vistara is a Sanskrit word meaning expanse. A spokesperson said, "We have considered many names for our brand, and a few have been registered."
An executive had confirmed Tata-SIA would not draw on the names of either parent company.
Singapore Airlines has given new brand names to two carriers it controls - SilkAir (short-haul) and Scoot (low-cost, long-haul). It also has a stake in Tiger Airways which is a low-cost carrier.
The Tata group has independent brands like Westside for apparel retail, Titan for watches and Tanishq for jewellery. Group firms which use the Tata brand name pay royalty amounting to 0.25 per cent of their respective revenues.
Tata Sons and Singapore Airlines, which partnered to launch a full-service airline in the country, will launch services by October.
The airline would have one aircraft in India by early September.
The initial plan is to begin services in five cities and go up to eleven cities within a year of operation. The airline will have 87 weekly flights and these will link Delhi with Mumbai, Goa, Bangalore, Hyderabad, Ahmedabad, Jammu, Srinagar, Patna and Chandigarh.
Sources said that while the airline will mainly have business and economy classes, it might have an additional offering between the two.
The commencement of operations is subject to the approval of the Directorate General of Civil Aviation (DGCA), which is in the process of examining the airline's application for an air operator's permit.
Tata Sons had partnered Singapore Airlines on September 19, 2013, to launch a full-service airline in India with an initial investment of $100 million. Tata Sons holds 51 per cent stake in the airline. SIA owns the rest for $49 million.
The airline has made Delhi its operational hub because of the capacity constraints at the Mumbai airport.
Tata-SIA has said it would like to operate international flights from India depending on government approvals. Government rules do not allow domestic airlines with less than five years in operations and with a fleet of less than 20 aircraft to start international operations. The ministry has drafted a cabinet note to change the policy.
The Tatas have a partnership with Malaysian carrier AirAsia for a low-cost airline, which commenced operations on June 12 in India.
GIVING A BIRD ITS NAME
Vistara is a sanskrit word meaning expanse
The new brand identity is in line with Singapore Airlines' strategy which has preferred to give new brand names to the two other carriers it controls
Sources said while the proposed airline would have business and economy classes, it may have an additional offering in between the two