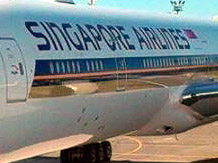 Tata-SIA Airlines Ltd, a joint venture between the Tata group and Singapore Airlines, is gearing up to start the recruitment process, for which recruitment advertisements will be released this week.

The airline, which plans to launch services from September this year and is awaiting the Directorate General of Civil Aviation's nod for the same, will hire engineers, cabin crew and security personnel in the first phase.

In the first year of operation, the airline will lease 20 Airbus A320s. Currently, it has 20 executives on its rolls including heads of finance, human resource, commercial and operations.

Y P Teik is set to be its first chief executive officer. It has also received applications from pilots and it has short-listed some of them.

However, a full-fledged recruitment process is yet to commence.

When contacted, a Tata-SIA spokesperson confirmed that the recruitment
process would begin soon but refused to divulge how many people the airline would induct.
While recruitment ads would be released through the print media, the company would also leverage social media platforms such as Facebook and Linkedin to hire personnel over the next few weeks, the spokesperson added.
Among new airlines, AirAsia has hired 350 employees so far and Air Costa will be hiring 400 personnel this year.
Typically, each aircraft adds up to 100-110 jobs.
Tata-SIA is not going in for an aggressive launch; while domestic airlines hire five sets of pilots for each aircraft, Tata-SIA will begin with three sets for the initial phase and increase the pilots strength as it increases capacity.
In the first year of operation, the airline will have 87 weekly flights and these will link Delhi with Mumbai, Goa, Bangalore, Hyderabad, Ahmedabad, Jammu, Srinagar, Patna and Chandigarh.
The airline's administrative, maintenance and operational facilities will be located in the national capital region.