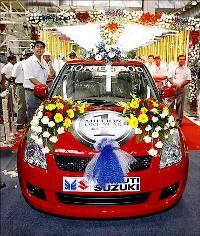 In a move aimed at streamlining control and integrating operations with its Indian subsidiary, Japanese auto major Suzuki Motor Corporation is considering increasing its stake in Maruti Suzuki India Ltd.
A key Japanese merchant banker that represents Suzuki is understood to have made presentations to some of the institutional investors that own equity in the joint venture to gauge their response.

SMC, which currently owns a 56.2 per cent stake in MSIL, is considering a range of options to increase its holding in the Indian company.

It could look at a share buyback, which would mean an open offer, buying from the market or going for creeping acquisition of shares (up to five per cent every year).

It could also opt for preferential issue of shares.

With a 40 per cent share of the domestic automobile market, MSIL is India's largest car maker.

Its market capitalisation currently stands at Rs 53,791 crore (Rs 537.91 billion).

The Maruti Suzuki scrip on Thursday rose 2.97 per cent from its previous close to end the day at Rs 1780.70 on BSE.

When contacted, MSIL Chairman R C Bhargava said: "I do not know if they are considering some such thing.

"They are the promoters and can increase their stake if they want."

Institutional investors currently hold 13.31 per cent in the company -- Life Insurance Corporation leads with an 8.21 per cent stake; HSBC Global has 1.32 per cent, ICICI Prudential 1.67 per cent and Credit Suisse 2.11 per cent.

Suzuki currently has a cash reserve of Rs 39,600 crore (Rs 396 billion).

If it decides to follow the lead of Unilever and increase its holding in its Indian arm to 75 per cent, it will have to shell out about Rs 10,000 crore or Rs 100 billion (on the basis of Thursday's market value).

However, if it goes for share buyback, its payout will be higher because it will have to offer a premium over the market price.

Given a weak market environment, global corporate giants have increasingly been looking at raising stake in their Indian subsidiaries, especially through the share buyback route.

Unilever plc, for instance, has increased its stake in Hindustan Unilever from 52.4 per cent to 67.28 per cent through share buyback.

Earlier, as part of its strategy to increase presence in fast-growing emerging markets, the company had announced spending $5.4 billion to raise stake in the Indian arm to 75 per cent.

Also, only a few days ago, GlaxoSmithKline Plc announced it would increase its 50.7 per cent holding in its Indian pharma unit to 75 per cent through an open offer -- a deal for which it would have to pay $1 billion.

According to sources, Suzuki's rationale in looking to strengthen its control in Maruti Suzuki is the Indian company's growing importance in SMC's global operations.

MSIL, which accounts for nearly 50 per cent of its total unit sales and 25 per cent to sales revenues, is Suzuki's largest overseas subsidiary.

Since 2007-08, MSIL sales have been higher that parent SMC's home-market sales.

The parent company had earlier this year shifted to MSIL the responsibility of producing and marketing vehicles to countries in Africa, West Asia and Southeast Asia.

"Suzuki has transferred to Maruti Suzuki the responsibility of producing and marketing cars to Africa, West Asia and some Southeast Asian markets where it doesn't have operations. Suzuki will focus on Europe, China and the rest of the markets," Bhargava had told Business Standard.

Also, Maruti Suzuki is working to make operational an integrated research and development centre in Rohtak.

The test tracks at this centre would be longer and have better technical capabilities than those of SMC in Japan.

When the Rohtak testing facility and R&D centre go on stream (in two-three years), the Indian company would start designing, developing and testing SMC vehicles for the African, West Asian and some South Asian markets.