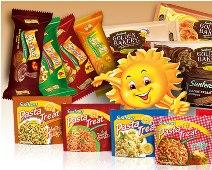 In July 2003, ITC forayed into the biscuits market with its Sunfeast range of glucose, marie and cream biscuits.

Twelve years since, ITC is now well ensconced in the biscuits space, a segment that is relatively inflation-proof.

At the time of launch, ITC made a reluctant entry into the glucose and marie segments. Today, it's a rejigged portfolio and the two segments are not particularly important in ITC's scheme of things.

"The glucose segment is loss making. Its success or failure depends on the prices of sugar, wheat flour etc.

"There was a time when this segment was profitable and the old companies capitalised on this, and made it what it is.

"They had also spent a lot on the segment.

"By the time we came into the business, we realised there is nothing to it, but as starters one can't be arrogant and say that I don't want to do this.

"So we still did it," ITC foods divisional chief executive, Chitranjan Dar, recalls.

The perfunctory presence was at the behest of retailers in the market who used to press for a carrier brand and glucose was the category to be in.

Sunfeast was not in a position to contradict trade veterans at that point in time.

Parle-G, the iconic glucose biscuit brand (in fact, the 'G' stood for glucose), and Britannia [ Get Quote ] are the top players in the Rs 6,500-crore (Rs 65-billion) glucose biscuit market.

But over time, ITC's position on the category was vindicated as market dynamics changed.

"Indians are ready to shell out more and go for the premium and super premium products. The glucose market, in comparison, has shrunk, compared to what it used to be five years back.

"On the other hand, segments such as cream and cookies have grown at a much faster rate and cornering a large part of the market.

"They are also inflation-proof to some extent," Dar said.

Trade sources said during April-September last year, the glucose category accounted for a 19.3 per cent share in the biscuit market, in terms of value, while cookies had a 26.2 per cent share and cream 22.2 per cent.

The figures for the first half of 2010-11, however, show glucose was at 26.5 per cent with cookies and cream at 23.8 per cent and 16.6 per cent.

Even Parle-G has introduced several cream and cookie brands.

Other players, such as Cadbury, which has brought Kraft Food's Oreo to the country, and GSK [ Get Quote ], which has extended its Horlicks brand into cookies, too have added to the growth of the premium category.

The UK's United Biscuits is another player with a significant presence in the high-value segment.

ITC's focus is the more paying cookies and cream segment. Under Sunfeast, ITC's premium sub-brands come under Dream Cream and Dark Fantasy.

The Sunfeast Dark Fantasy Choco Fills is at the premium end of creams segment.

In cookies, ITC's presence is limited to the mid-segment, but going by Dar's hints, the company is likely to make a further inroads into the market with launches.

"As the Indian consumers' needs are changing ITC's preferences are shifting too.

"The Sunfeast maker says, cookies, going forward, is the most desirable segment to operate in and the glucose biscuits market has nothing much exciting left in it," Dar said.

Analysts too corroborated Dar's point.

"The biscuit market is already witnessing a shift towards premium products and high margins in the cream and cookie segment is luring biggies to offer more variants in these segments.

The non-glucose segment earns at least 10 per cent higher margins," said Kaustubh Pawaskar, research analyst at Sharekhan.

"The glucose segment is not where I want to participate.

In the sense, I would not go out of my way to participate in it. In the premium, we are aggressively marching ahead. Sunfeast is already the leader in the cream segment.

"We are not a leader in cookies and that is a desirable segment," Dar said.

Biscuits are the biggest contributor to ITC Foods top line and premium segments.

The chief executive of the diversified conglomerate's food business says plans are afoot to link its mammoth back-end support, the e-choupal network, for biscuits, as well.

Currently, it is restricted to the atta brand, Aashirvaad, but will soon extend it to biscuits.