Take part in the growth story, Amit A Shah advises Corporate India.
Subhayan Chakraborty reports.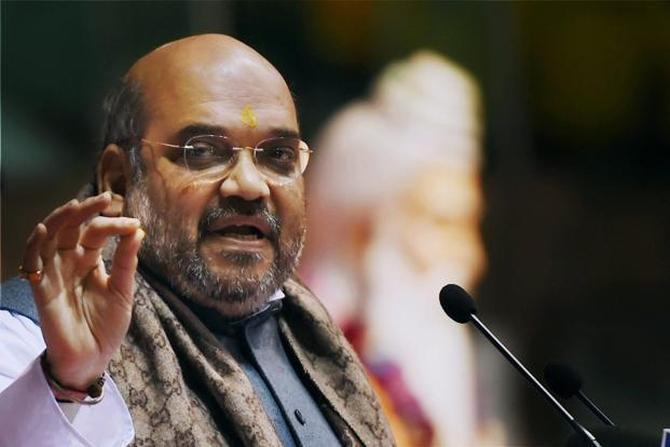 Barely two weeks after India's dismal economic growth figures for the first quarter of 2017-2018 were released, Bharatiya Janata Party President Amit A Shah told industry captains to stop complaining about reforms and take part in the growth story.
Speaking at a Federation of Indian Chambers of Commerce and Industry event on Saturday, September 9, Shah said greater tolerance was required for reforms.
"FICCI's job is not only to bring forward complaints, but also to make suggestions about how to augment India's brand value," Shah said.
Industry should introspect on how to improve on research and development, and start manufacturing items such as solar cell phones, for which India was heavily reliant on imports, he added.
FICCI President Pankaj Patel said industry bodies needed to work more closely with the government for better implementation of economic and social programmes.
"We are currently transforming the way we interact with various stakeholders as part of the FICCI 3.0 plan," he said.
In the first quarter (April-June) of FY18, gross domestic product growth fell to 5.7 per cent -- the lowest level since the Narendra D Modi-led government came to power in 2014.
Experts have claimed this was largely a fallout of the scrapping of old Rs 500 and Rs 1,000 notes in November 2016, which had led to a massive fall in demand.
Shah, however, focussed on the benefits of the note ban. "We believe demonetisation has made the formal economy much larger," he said.
The BJP president also spoke about the government's development agenda.
Direct transfer of benefits to the accounts of beneficiaries had brought transparency to the process, Shah said.
Since 2014, the number of bank accounts brought into the ambit of this scheme had increased from 85 million to 360 million.
"This has saved Rs 59,000 crore (Rs 590 billion) that was being transferred as government benefits," he said.
On the goods and services tax, Shah said industries complaining about a higher tax burden did not take into account that input tax credit had been made available for all categories.
"Earlier, there were 17 different taxes, not all of which allowed input tax credit," he said.
Shah also spoke on other achievements of his party's government.
He said the government had doubled the taxpayer base from 37 million to 63 million individuals in the past three years.
In the infrastructure space, rural roads were now being constructed at a pace of 133 km per day from 69 km earlier.
The BJP president said the critical mass reached by the stock exchanges, along with the strength of the currency, was reason enough for Indian firms to start seeking investment opportunities in smaller nations.