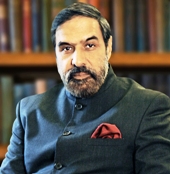 Expressing concern over slow growth in the overall industrial production, Commerce and Industry Minister Anand Sharma said on Friday the Government - Industry Task Force will soon meet to review the growth of the manufacturing sector.

"The concerns remain. . . The government-industry task force would meet soon and we will make an appraisal (about the manufacturing sector) and whatever intervention is required shall happen," Sharma told reporters in New Delhi.

The task force was set up in July 2011. Although the industrial production during March improved to 2.5 per cent, the factory output during 2012-13 worked out to be only 1 per cent, down from 2.9 per cent in the previous fiscal.

He said the government would take every step to ensure that there is growth rebound in the manufacturing sector.

Sharma added: "Manufacturing growth has a very clear social dimension when it comes to job creation. "We keep a watchful eye. The Cabinet Committee on Investment is clearing major projects.

"Now there is a fast track approval mechanism which is in place and we will see some positive reflection of that," he added.
Image: Anand Sharma