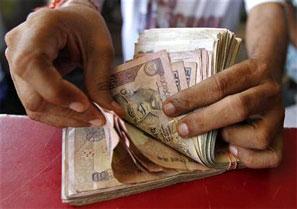 The rupee is seen weakening at the start of the week due to better than expected US non-farm payrolls data. However, during the week, dollar flows into domestic markets from foreign institutional investors (FIIs) and sale of dollars by firms might help the rupee gain. Government bonds yields on the other hand, are likely to trade in a range, owing to profit booking.

Non-farm payrolls data showed the US economy added 288,000 jobs in April. The data will add to positive sentiments for the dollar, expected to gain globally among other currencies on Monday.

The US Federal Reserve had announced a further reduction of its economic stimulus efforts last Wednesday. It decided to trim its monthly bond-buying programme by an additional $10 billion to $45 billion. Despite
this, the rupee ended stronger on Friday due to dollar sale by companies.
According to Samarjit Shankar, managing director of BNY Mellon Global Markets, the Federal Open Market Committee might keep rates low, at least until the second half of 2015. "If the rupee breaks the 60 per dollar mark, it shall find support at 59.75," said Sandeep Gonsalves, forex consultant and dealer, Mecklai & Mecklai.
The rupee ended at a three-week high of 60.16 on Friday, compared with its previous close of 60.34 a dollar.
Profit booking by traders is expected to continue in the government securities market. These traders had bought bonds when the yield on the 10-year security had breached the nine-per cent mark in April. "The 10-year bond may trade in the range of 8.78 to 8.85 per cent this week," said Balginder Singh, a government bond dealer at Andhra Bank.