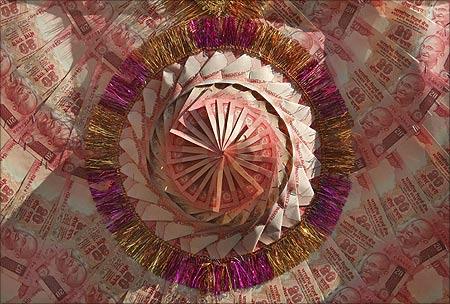 With the euphoria over the National Democratic Alliance's victory in the stock market continuing, the rupee is likely to touch 57 to the dollar soon.
Foreign institutional investors (FIIs) are net buyers in the equity as well as debt, due to which the rupee has been gaining. Besides, exporters have been selling dollars.
On Monday, the rupee ended at an 11-month high of 58.6, compared with the previous close of 58.78 to the dollar due to dollar flows in equities.
However, the Reserve Bank of India (RBI) intervened through state-run banks due to which the appreciation was limited.

The rupee had opened at 58.56 and during intra-day trades it touched a high of 58.38 per dollar.

The rupee had ended at 57.87 on June 17. In 2014, the rupee has so far strengthened by over five per cent.
According to currency experts, the rupee first needs to appreciate beyond the 57.50 level.
However, few currency experts believe the rupee might not appreciate significantly from current levels as RBI might not allow it to happen.