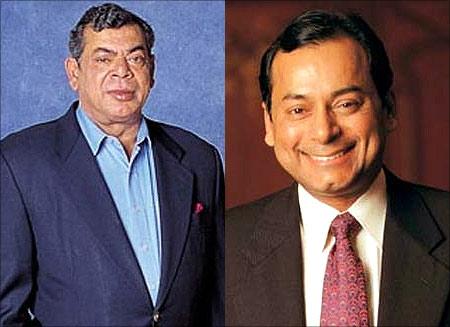 At $12-bn valuation, this will be India's largest FDI; deal to be announced on Saturday, says Dev Chatterjee.
Russian oil major Rosneft, Singapore-based trading firm Trafigura and Russia-based financial investor UCP are all set to acquire a combined 97.4 per cent stake in Ruia-owned Essar Oil at a valuation of around $12 billion, including debt. The Ruias and a few other minority shareholders will be left with 2.6 per cent stake in the firm.
The transaction will be announced in Goa on Saturday where Russian President Vladimir Putin would be attending the BRICS summit along with Prime Minister Narendra Modi, a top source in the Essar Group said.
A board meeting of Rosneft, held in Moscow on Thursday, cleared the transaction to buy 49 per cent stake in Essar Oil, and, according to sources, the equity valuation would be around $7.5 billion.
The other two investors, Trafigura and UCP, would buy 24.2 per cent stake each in the company. Bankers said the new investors will also take over Essar Oil's debt of around $4.5 billion.
This transaction is expected to become the biggest foreign direct investment inflow into India, pipping Vodafone's $11.7 billion investment in India.
When the company was delisted in December last year, the Ruias had paid 80 per cent premium to Essar Oil shareholders over the floor price that valued the company at Rs 39,000 crore ($6 billion).
The Ruias will be repaying Essar Group's foreign debt from the proceeds of the sale, sources said.
The Rosneft deal was originally signed in July last year but ran into rough weather, as Indian banks were worried over the impact of the US sanctions on Russian companies.
The transaction is a win-win deal for both the Ruias and Rosneft, as it would help Essar Group to reduce its debt, which had crossed Rs 88,000 crore as of March this year. At the same time, Rosneft would be able to sell its crude oil produced in Russia to Essar Oil in India and then market it to Indian customers.
READY RECKONER
Largest FDI in India at $12 bn
Equity valuation at around $7.5 bn
New investors to take over Essar Oil's debt of arund $4.5 bn
Ruias to reduce Essar Group's debt of Rs 88,000 cr (as of March 2016)
Rosneft to supply crude to Essar Oil
Essar Oil is a 20-mn tonne per annum refinery and has 2,200 retail outlets
FY16 Ebitda at Rs 7,000 cr, estimated to rise to Rs 10,000 cr in FY17
After the sale, Essar Group to have interests in BPO, shipping, power and steel
The transaction also marks the exit of the Ruias at a bumper profit after they sold their 33 per cent stake in Vodafone Essar to Vodafone Plc in July 2011 for $5.46 billion.
Apart from the 20-million tonne per annum refinery, the sale would include the Vadinar Power Company, two ports and 2,200 retail outlets, which are crucial for the refinery's operations.
The exit of the Ruias from Essar Oil ends a chapter for the group, which entered the business in the mid-1990s. The construction of the refinery was delayed for a considerable time due to cyclone and regulatory delays and it started commercial production in May 2008.
Interestingly, the financials of Essar Oil are looking up. It is expected to make an Ebitda (earnings before interest, tax, depreciation and amortisation) of Rs 10,000 crore in financial year 2016-17, compared to Rs 7,000 crore last financial year.
The Essar Group was under pressure from the banks to reduce its debt, which went up to Rs 88,000 crore in March this year. The group was planning to sell 30 per cent stake in Essar Steel but dropped the plan, as it could not find any takers. In the past few years, the group sold its US-based business process outsourcing (BPO) unit for $610 million, its Vodafone India stake for $5.46 billion and real estate, including an office complex in Bandra Kurla Complex in Mumbai, for Rs 2,700 crore.
While the group's oil refining business did well, its steel business failed to make money due to falling steel prices, lack of gas supply from the Krishna-Godavari basin and damage to its Kirandul-Vizag slurry pipeline by Naxals in October 2011. The lack of gas supply brought down Essar Steel's capacity utilisation at the Hazira plant to 40 per cent. The steel business has recovered this year on the back of the minimum import price imposed on cheap Chinese steel and increased gas supply.
After the sale of its profit-making refining business, the group will be left with BPO business, shipping, power and steel businesses.
Image: Shashi and Ravi Ruia. Photograph: Rediff Archives.
(With inputs from Reuters)