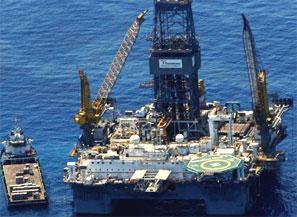 Shares of Reliance Industries on Monday surged nearly 4 per cent on the bourses on expectation of higher production at gas fields of KG-D6 block.

Shares of the company opened on a bullish note and surged 3.84 per cent to an intra-day high of Rs 902.40 on the BSE.

Similar trend was also seen on the National Stock Exchange as well, where the stock, after opening at Rs 865.10, jumped 3.93 per cent to an early high of Rs 903.65.

BP, which bought a 30 per cent stake in RIL's 21 oil and gas blocks, including KG-D6, for $7.026 billion in 2011, is working with RIL to arrest the output decline in the fields.

"Following approval by the relevant authorities in 2012, a number of activities are being progressed to arrest the decline in production rates and to extend the life of the block KG-D6
producing fields.
"These include new work-over wells and the installation of additional compression and water handling capacity," BP said in its 2013 annual report.
BP said in the report that two significant gas and condensate discoveries had been made in the Krishna-Godavari basin and the Cauvery basin.
These resources have the potential to help meet India's growing demand for energy, increase gas supplies to the market from 2018 and improve the country's energy security, it said.
RIL is the operator of the KG-D6 block with a 60 per cent stake while Niko Resources of Canada holds 10 per cent.
The KG-D6 fields, which began production in April 2009, hit a peak output of 69.43 mmscmd in March 2010 before water and sand ingress led to more than a third of the wells shutting down.