Reliance Industries has shut its seventh well on KG-D6 gas block due to high water and sand ingress as it awaits regulatory nod to carry out urgent workover to plug the problem responsible for drastic fall in output.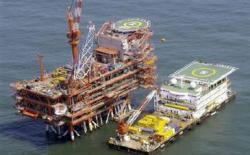 RIL on November 29 shut well B4 on the main producing fields of Dhirubhai-1 and 3 (D1&D3) in KG-D6 block "due to high water cut/sanding issues," according to a status report of the Directorate General of Hydrocarbons (DGH).

The shutting of the seventh well saw output from D1&D3 fields drop to 19.02 million standard cubic meters per day from about 20 mmscmd a month ago.

Together with 4.25 mmscmd from MA oil field in the same block, KG-D6 produced 23.27 mmscmd of gas in the week ending December 2, DGH said the status report dated December 3.

RIL has so far drilled 22 wells on D1&D3 fields but has put only 18 on production so far. D1&D3, which started gas production in April 2009, had touched a peak of 55 mmscmd in August 2010 before beginning of water and sand ingress in wells.

The company had closed six wells since end-2010 and last month the seventh well was shut.

The same problem has held to shutting of one-third of the wells on MA oilfield in the same block. Output from MA is half of the peak rate it had achieved in 2010.

Sources said RIL had last year
proposed to do workover or maintenance job to revive sick or closed wells but the oil ministry and DGH are yet to give their go ahead.
The $100-120 million spending in the workover is part of the capital Budget for current fiscal, which along with the same for 2010-11 and 2011-12 is pending approval.
Oil Ministry says it has withheld approvals pending RIL agreeing to give the Comptroller and Auditor General (CAG) access of its books to conduct a second round of audit.
The audit has not begun because of difference over scope of the scrutiny.
RIL has so far made 18 gas and one oil discovery in the Krishna Godavari basin block in Bay of Bengal. While the lone oil find, MA went on stream in September 2008, largest among the gas finds, D1&D3 were put on production in April, 2009.
Oil Minister M Veerappa Moily had previously informed Parliament that RIL had not drilled its committed 31 wells on D1&D3 field, which was the main reason why current output does not match the targetted 80 mmscmd for this time of the year.
The government, he had said, does not accept RIL's contention that geological reasons alone were responsible for the decline.
RIL and its partner BP believe any additional wells in D1&D3 fields may not improve either production or recovery rates considering reservoir behaviour and the key to raising output was to quickly put other finds on production.