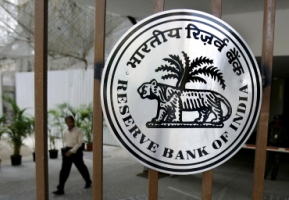 The Reserve Bank, in its upcoming credit policy meet, is likely to keep policy rates on hold and liquidity tightening measures in place to help stabilise the currency and curb inflation, says an HSBC report.

According to the global financial services major, the primary concern for the RBI at the moment has to be anchoring elevated inflation expectations and stabilising the currency, which could face renewed pressures if the Fed begins QE tapering this week, as widely expected.

Since the July policy meeting, global economic conditions have improved for advanced economies, while, emerging markets continue to face challenges owing to the tighter global financial conditions and Fed related tapering fears.

Moreover, the Indian economy is slowing on the back of tighter financial conditions and economic uncertainties, while inflation remains a 'concern' and currency continues to face 'potential headwinds'.

"We, therefore, expect that RBI will keep the repo rate on hold and the currency stabilisation measures in place," HSBC Chief Economist for India and ASEAN Leif Eskesen said.

The rupee is currently hovering around the 62/USD level.

The local currency had depreciated to an all-time low of 68.85 on August 28. Meanwhile, expensive onion and other food items pushed the WPI inflation to 6.1
per cent in August.
The HSBC report further noted that growth figures of the country would show only faint signs of a recovery during the final quarter of the fiscal year as economic uncertainties recede somewhat and confidence reluctantly recovers.
Moreover, CCI expedited and other investment projects are likely to kick in slowly around that time, it added.
"Overall, however, the recovery will be very drawn out, and the outlook for India is still tainted with downside risks given the lingering macroeconomic uncertainties and the possibility that politics will get in the way of meaningful progress on structural reform implementation," HSBC said.
Earlier this month, HSBC had lowered India's gross domestic product forecast for this fiscal to 4 per cent from 5.5 per cent earlier.
According to official figures, India's economic growth in the April-June quarter slid to 4.4 per cent.
The report said, the new RBI governor, Raghuram Rajan is facing a tough task as he would have to consider the competing concerns (inflation versus growth), potential pressures from a government heading into elections and fickle global financial conditions as the Fed gears up for QE tapering.
"He clearly cannot meet everybody's expectations, and some are bound to be disappointed," HSBC said.
RBI is scheduled to hold its mid-quarter policy review meet on September 20.