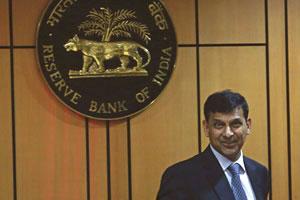 Reserve Bank of India Governor Raghuram Rajan on Friday surprised the industry and shocked the stock markets by hiking the short-term policy rate by 0.25 per cent to keep 'worrisome' inflation under check.

This move may increase equated monthly instalment for home and auto loans in the medium term.

Financial services firm AnandRathi analysed the key points of the policy soon after it was announced.

Following are the highlights of RBI's mid-quarter monetary policy review:
* Key short-term lending rate (repo rate) hiked by 0.25 pc to 7.50 pc.
* Borrowing rate for banks reduced under MSF by 0.75 pc to 9.5 pc.
* Eases minimum daily liquidity maintenance of CRR to 95 pc from 99 pc.
* Maiden policy announcement by new RBI Governor Raghuram Rajan.
* Retains Cash Reserve Ratio at 4 pc.
* Inflation worrisome, no room for complacency.
* WPI inflation will be higher than that projected for rest of the year.
* Economic growth trailing below potential.
* Pace of infrastructure project completion subdued, new projects' starts remain muted.
* Next monetary policy review on October 29.
AnandRathi's assessment:

While there was expectation of some reversal in MSF and reduction in the daily limit of cash reserve ratio, repo rate hike was not expected.

RBI seems to be more concerned about inflation than growth. And RBI Governer's tone seems to be to make future decisions basis data.

Shorter term yields should drop given the reduction in MSF to 9.5 per cent.

However, this may keep bond yields volatile for longer than earlier estimated.

Over the next 2-3 months, we expect week growth with stabilisation of external account and inflation due to the measures being taken to increase dollar inflows and good monsoons to provide a environment of rate cut for RBI.

Longer end looks attractive with 12-18 months' view.

However, in short term, volatility will prevail.