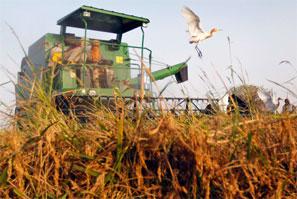 India's food prices will decline sharply in December, while industrial output will pick up in coming months, the chairman of the Prime Minister's Economic Advisory Council, C. Rangarajan, told TV channel ET Now on Thursday.
Rangarajan said the rise in food prices was due to an "extraordinary" increase in vegetable prices but added that some components have fallen, noting, for example, that onion prices have fallen by half since their peak.
"We can expect by December for food prices to come down, and that will moderate the CPI inflation," he said.
On industrial output, Rangarajan said the high base effect from last year was affecting the data, but added he expected a pick-up.
"We should expect improvements to happen in the months of November and December. As of now, it is a bit disappointing the numbers that have come, but I still think there will be a pick-up in coming months," he said.
Data earlier on Thursday showed the annual consumer price inflation rose to a higher-than-expected 11.24 per cent in November from 10.17 per cent in October.
Separately, data showed industrial output slumped 1.8 per cent in October after growing 2 per cent in September. Analysts polled by Reuters had predicted industrial output would contract by 1.2 per cent for the month.