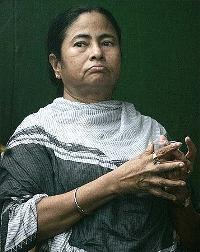 West Bengal Chief Minister Mamata Banerjee on Tuesday slammed the Centre for 'depriving' the state in the Railway Budget.

"Bengal is deprived and insulted at the hands of the Centre's new government.

In today's perspective, such deprivation and insult has anyone seen"? Banerjee, a former Railway minister said in a Facebook post.
Image: Mamata Banerjee; Photograph: Reuters
Please click here for the Complete Coverage of Budget 2014 -15