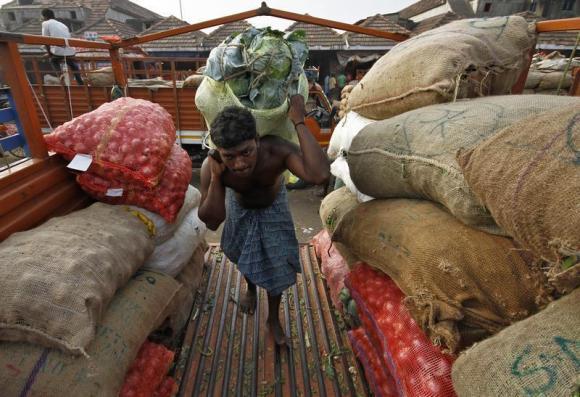 Govt to continue spending in spite of the additional expenditure burden of Rs 1 lakh crore (Rs 1 trillion) due to One Rank, One Pension and the Seventh Pay Commission
Finance Minister Arun Jaitley said on Tuesday the government would continue the thrust on public spending in the upcoming Budget.
The government would do this in spite of the additional expenditure burden of nearly Rs 1 lakh crore (Rs 1 trillion) due to One Rank, One Pension and the Seventh Pay Commission recommendations for the next financial year.
"Public investment has been stepped up in the past year and it will continue to remain stepped up.
When you fight a global slowdown, public investment has to lead the way," Jaitley said at the foundation day of India Infrastructure Finance Company in New Delhi.
For 2015-16, the government had committed to increasing public spending in infrastructure to boost demand for the private sector battling stressed balance sheets.
It is a promise which the Centre came good on.
Capital spending for April-November was Rs 1.59 lakh crore (Rs 1.59 trillion), a good 31 per cent over the same period last year.
In fact, spending comfortably crossed Rs 1 lakh crore the first time for the first six months of the financial year.
Jaitley's commitment to spend next year comes at a time when the government has cut its own gross domestic product growth estimates for the year to 7-7.5 per cent from 8.1-8.5 per cent.
The government may also take a re-look at the medium-term fiscal consolidation road map.
In his mid-year economic analysis in December, Chief Economic Advisor Arvind Subramanian had said there was a need to re-assess the fiscal deficit target of 3.5 per cent for 2016-17 due to additional expenditure for OROP and pay commission.
Subramanian had also warned that not doing so would impact capital spending, and, hence, demand and growth. Senior policymakers have said that while this year's fiscal deficit target of 3.9 per cent would be met, next year looks challenging.
The additional burden due to the Seventh Pay Commission recommendations is expected to be around Rs 74,000 crore (Rs 740 billion).
While defence ministry estimates say additional spending impact due to OROP is expected to be around Rs 8,000 crore (Rs 80 billion), finance ministry officials claim it could be as much as Rs 15,000 crore (Rs 150 billion).
Speaking at the event, Jaitley said investment in rural infrastructure was the 'need of the hour'.
As reported earlier, the Narendra Modi-led government is looking to boost rural consumption.
It may give an allocation push in Budget 2016-17 to programmes on irrigation infrastructure and rural roads, among others.
Jaitley said that the finance ministry was in touch with a large number of international sovereign and pension funds to become partners in the newly set-up National Investment and Infrastructure Fund for funding projects.
"The years and months to come will be those where we will be seriously investing in infrastructure.
"We should be able to show much more positive results, as far as Indian economy is concerned, making it a stable force, which we have become even in the midst of a crisis like situation across the world," he said.
Jaitley said the government is considering allowing the private sector to manage smaller airports.
The proposal for allowing management participation to the private sector in some mid-sized and smaller airports is aimed at improving their managerial efficiency, Jaitley said.
He added that "the railway has now come on to directionally the right track.
"We are inviting the private sector, including foreign investment into infrastructure. . . very shortly, the railways is going to come up with its proposed bids for development of 400 railway stations in the country".
Jaitley also said the ministry of civil aviation has worked on improving management in the mid and lower levels.
"They probably need managerial efficiency and, therefore, management participation of the private sector in some of these airports is a proposal, which they have been considering. I think the government is very clear with regard to the direction in which it wants to move," he said.
"There is no easy day.
"And, therefore, the trends that global economy is going to throw up, will be challenging," he said, adding lower oil, commodity and mineral prices was an opportunity for India.
"I find the opportunity provided by the low oil prices has enabled the government to channelise a large part of our savings in central areas of infrastructure," he said.
Image: A labourer carries a sack filled with cabbage to load it onto a supply van at a vegetable wholesale market in Chennai. Photograph: Babu/Reuters