NDTV shares spurt 20% on takeover buzz, Trai norms.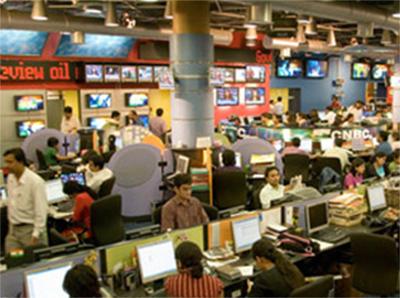 Shares of leading news broadcaster New Delhi Television (NDTV) on Thursday hit its upper limit of nearly 20 per cent - the highest this year.
Market players said the stock soared on persistent buzz in the market of it being an acquisition target of a leading corporate house.
Positive sentiment following the Telecom Regulatory Authority of India's (Trai) recommendations for direct-to-home operators (DTH) also helped NDTV and other news media stocks such as TV Today and Zee Media, said analysts.
An official at a domestic brokerage said rumours about a takeover of NDTV was doing the rounds.
If the rumours are true, the Prannoy Roy-led news corporation would join rivals TV18 and TV Today to be acquired by a corporate house.
TV18 has been bought by Reliance Industries, while Aditya Birla Group has made substantial financial investment (27.5 per cent) in TV Today's holding company, Living Media India.
NDTV, which has a market capitalisation of around Rs 570 crore (Rs 5.70 billion), has underperformed the market this year gaining only 10 per cent as against a 25 per cent rise in the Sensex.
Shares of the company are trading at a fraction of its 2008 initial public offering price of Rs 435, when it raised over Rs 200 crore (Rs 2 billion) from the market. NDTV has been mired in losses in recent years. In 2013-14, it reported a net loss of Rs 85 crore ( Rs 850 million).
Meanwhile, in a move that would improve the financial situation for the sector, the broadcasting regulator on Wednesday proposed something that would help news broadcasters save carriage fees.
On Wednesday, Trai recommended that subscription revenues for vertically integrated DTH operators should be on a cost per subscriber (CPS) basis, rather than fixed fee deals.
Currently, news broadcasters such as NDTV and Zee get a mix of CPS and fixed fee.
"As subscriber base and viewership is continuously increasing, news broadcasters will benefit from this recommendation as news channels, in particular, have lower bargaining power as compared to general entertainment channels," said Abneesh Roy, associate director, institutional equities - research, Edelweiss Securities.
Trai has also recommended that the access fee charged by DTH operators shall be non-discriminatory for all broadcasters.
Further, the specified access fee will have to be justified to the regulatory authority.
NDTV operates news channels, including NDTV 24X7 and NDTV India.
"News broadcasters have been paying high carriage fees and could potentially benefit," said Roy.
Trai on Wednesday also recommended easier licensing regime for DTH operators. DTH players Dish TV and Hathway ended on a positive note on Thursday.