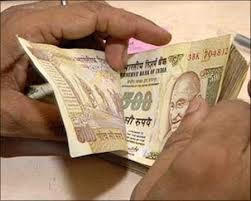 With the Aam Aadmi Party declaring its collections on almost a daily basis, Rs 5.73 crore (Rs 57.3 million) since December 4, donating money to political parties is in the news.

All parties accept donations, from individuals and companies.

The law only requires the donor be an Indian citizen, living in this country or abroad.

If a non-resident Indian, he should have a valid passport.

All political parties have a link to the donation page on the home page of their websites.

You can donate in cash or through cheques, demand drafts, debit or credit card or internet banking.

When you go to the Bharatiya Janta Party's donation or the Aajiwan Sahyog Nidhi page on their website, it says, "Contribute Rs 1,000, Rs 5,000 or Rs 100,000, annually."

Similarly, the Congress party website allows you to donate through 'Get Involved'. And, AAP's has the link on its home page.

There is a perk for donating to political parties.

An individual who makes an eligible donation is entitled to get 100 per cent tax deduction under Section 80GGC of the Income Tax (I-T) Act.

Companies donating to political parties can claim deductions under Section 80GGB.
However, "starting this financial year, there is no deduction available for donations in cash", says Vaibhav Sankla of tax consultancy firm H&R Block.

In addition, all the sections under Section 80 (80C, 80CCD. 80E and so on) fall under Chapter 6A of the I-T Act.

The chapter specifies one's total tax deduction cannot exceed total income.

If one donates more than the taxable salary, the tax deduction under Section 80GGC will be allowed only to the extent of the latter.

Also, you can claim deduction for a donation only if you have a receipt issued by the political party in question.

The receipt must contain the name and address of the party trust, the name of the donor, the amount donated, and PAN and TAN of the political party.

Also, Chapter 6A deductions are allowed only for salary income, business income, rental income and interest income.

If the donation is deducted directly from the salary and the donation receipt is in the name of employer, an employee can claim deduction if he has a certificate from the employer that the contribution was made from the employee's salary account.

Incidentally, donations in kind are not entitled to any tax benefit.

JOY OF GIVING
AAP
Link to the donation page available on home page
Various links available to donate online or by cheque/DD, on donation policies, list of donors, etc
Online donation page asks for donor's details
CONGRESS
Home page shows an option 'get involved'
Website does not specify any minimum amount for donation
BJP
'Donate' option is at the bottom of the home page
On clicking, you go to the 'Aajiwan Sahyog Nidhi' page
'Contribute Rs 1,000, Rs 5,000 or Rs 100,000, annually,' says the page