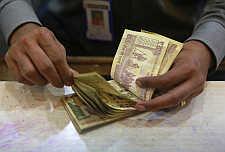 The Reserve Bank of India is all set to unveil banking sector reforms, which would allow foreign banks to enter Indian market in a big way and even contemplate taking over Indian banks, RBI Governor Raghuram Rajan has said.
The banking sector reform, in particular to those facilitating entry of foreign banks in India in a "big way" is part of the five pillars of reforms, including monetary policy framework, which the RBI is going to implement in the next few years, the RBI Governor told a Washington audience. "That is going to be a big big opening because – one could even contemplate taking over Indian banks, small Indian banks and so on," Rajan said, adding that the policy framework for the entry of foreign banks in India is likely to unveiled in the next few weeks.
"For foreign banks, if you adopt a wholly owned subsidiaries structure and we are coming up with details on that in the next couple of weeks, we will allow you near national treatment," he said, quickly adding that there would be two conditions.
"One reciprocity - your country should allow the same to our own banks - and second you come through one route either you have a branch or you have a subsidiary; don't do both. That is primarily to simplify our regulatory function, but also to make it clean. But once you have a fully owned subsidiary, we would allow you a lot of freedom," he said.
The new policy with regard to the foreign banks is part of his five pillars of reforms, he said, adding that this would start with the monitory policy. "We got to get our monitory policy clear and understood to the broader public. Clearly the Reserve Bank has had monetary policy framework, we need to make it much more explicit. And also bring it up to modern standards of transparency and credibility," Rajan said.
Emphasising on banking reform, Rajan said the RBI has already announced free branching in India. "We announced that we will give new bank licenses not just once, but we would contemplate opening it on tap – people come in submit their application, we consider them and give licenses," he said, adding that the RBI is also talking about differentiated bank licenses.
Deepening of Indian markets, he said, is another area of policy reforms. "We want deeper Indian markets - the corporate markets, the government debt markets and the money markets," he said, adding that this particular reform would be carried out only after the current economic turmoil is over.
Noting that the level of technology in India is tremendous, Rajan said financial inclusion is another sector of his reform. "We can think about technology based solutions to intrusions- spreading payments across the country. Across the board we would use to spread financial inclusion technology," he said.
"Whether it be corporate distress or financial institution distress, we need to improve our mechanism to make it simpler, cleaner and less value reducing," he said. Rajan acknowledged that inflation is clearly an issue for the economy. The ordinary monetary policy would be focused on containing inflation and not directed towards external sectors, he said.