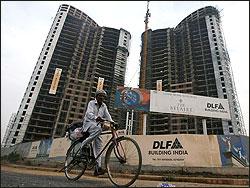 Realty major DLF's promoter Pia Singh on Tuesday picked up more than 1 crore shares of the company for Rs 194 crore (Rs 1.94 billion) from another promoter entity.
Pia Singh, daughter of DLF Chairman K P Singh, bought about 1.31 crore DLF shares from Mallika Housing Company LLP through the open market, according to information available with the stock exchanges.
The shares were purchased at an average price of Rs 147 each, valuing the transaction at Rs 193.95 crore, the data showed. DLF shares fell 2.36 per cent to close at Rs 144.65 on the BSE.
As of September 30, Pia Singh held about 81.38 lakh shares representing a 0.46 per cent stake in DLF, while Mallika Housing held 9.09 crore scrips, amounting to a 5.11 per cent holding in the company.